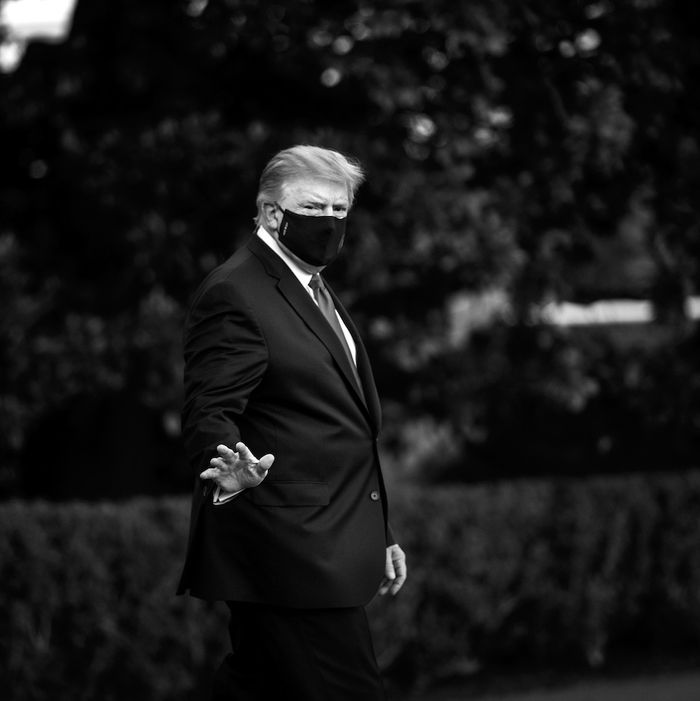 What is going on.
Photo: The Washington Post/The Washington Post via Getty Images
What a wild and winding news road we've traveled in past 72 hours, or however much time has passed since President Donald Trump announced, very early Friday morning, that he and First Lady Melania have the coronavirus. In the interim, a number of key Trumpworld players have confirmed their diagnoses, while the specifics of the president's condition remain murky at best.
Initially, the president's physician painted the couple's cases as mild, but by Friday evening, he'd been taken to the hospital. And over the weekend, those close to Trump — who, at 74 years old, sits squarely within a high-risk age bracket for serious infection — delivered conflicting messages about his condition. The shifting narrative seeded speculation that things may be worse than doctors have admitted. Nonetheless, by Sunday afternoon, his medical team claimed the president could be discharged by Monday, despite also signaling that his COVID-19 case may actually be quite severe. As usual, chaos reigns.
Below, here's everything we know about Trump's coronavirus case.
Trump was hospitalized on Friday.
Trump's tweet announcing his infection went out just after 1 a.m. on Friday, hours after he confirmed reports that one of his senior aides, Hope Hicks, had "just tested positive for COVID-19." White House chief of staff Mark Meadows told reporters on Friday morning that the president had only "mild symptoms," but according to NPR, he also received a dose of an experimental antibody cocktail by 4 p.m. that day. At the time, White House physician Sean Conley said the patient was "fatigued but in good spirits."
Within about two hours, however, the president tweeted a video of himself, explaining that he was headed for Walter Reed hospital in Bethesda, Maryland.
Just before midnight, White House press secretary Kayleigh McEnany shared Conley's "Friday Evening Health Update" on the president's condition. Conley wrote that Trump was "doing very well" and "not requiring any supplemental oxygen," but that he had begun a remdesivir treatment course. Remdesivir is an antiviral drug that has shown some promise in serious COVID cases, generally the kind where patients require supplemental oxygen.
Around that same time, the president tweeted that things were "going well, I think!"
Then came the mixed messaging.
On Saturday morning, Conley convened a press briefing outside Walter Reed, where he said that Trump's symptoms appeared to be improving and that, overall, he was "very happy" with the president's progress. But he also threw out some details that stirred confusion. Conley described the hospital stay as a "precautionary measure" and said that Trump was not on supplemental oxygen, which typically suggests a more severe infection. Notably, Conley declined to clarify whether supplemental oxygen had come into play at any other point in the president's infection timeline. He also placed Trump's diagnosis date on Wednesday, which would've made him contagious during Tuesday's very screamy presidential debate. The White House scrambled to walk back the claim, saying Conley misspoke.
But conflicting stories about the president's health did not inspire confidence in the administration's public-facing narrative. Minutes after Conley presented his update, Meadows told reporters that "the president's vitals over the last 24 hours were very concerning and the next 48 hours will be critical in terms of his care. We're still not on a clear path to a full recovery." Sources close to the situation said that these remarks infuriated Trump, and Meadows subsequently attempted to correct course. "The president is doing very well," he said in a statement to Reuters later that day. "He is up and about and asking for documents to review. The doctors are very pleased with his vital signs. I have met with him on multiple occasions today on a variety of issues."
As if to underscore that message, Trump tweeted a video of himself on Saturday evening. Seated at a wooden table with the aforementioned documents clearly displayed, the president looked paler than usual as he embarked on a rambling four-minute address, thanking hospital staff and claiming to "feel much better now."
Still, despite his assertions of relative strength, Trump weathered some "scary moments," the New York Times reported Saturday. Two White House sources allegedly told the outlet that the president had a hard time breathing on Friday and required supplemental oxygen. (Calling into Fox News on Saturday night, Meadows confirmed this, saying Trump "had a fever and his blood oxygen level had dropped rapidly.") Meanwhile, Vanity Fair reported that Trump's team forced him into the hospital against his will.
Conley issued some corrections on Sunday morning.
All these contradictory pieces of information created widespread confusion and the sense that Trump's medical team may have obfuscated the facts of his condition. On Sunday, Conley held another press briefing, this time providing more concrete details on Trump's progression.
"I didn't want to give any information that might steer the course of illness in another direction," he said. "And in doing so, you know, it came off that we were trying to hide something, which wasn't necessarily true. The fact of the matter is, is that [Trump's] doing really well."
But according to Conley, that has not consistently been the case since the president entered the hospital. Conley admitted that Trump's oxygen levels dropped at two points in the past 48 hours, once on Friday (when he received supplemental oxygen at the White House) and once on Saturday (when Conley did not clarify if oxygen was administered or not). He also had a "high fever" on Friday, the physician reported, but declined to go into detail on imaging of the president's lungs.
Conley also noted that, in addition to remdesivir, Trump received dexamethasone — a steroid that has showed some promise in treating serious COVID-19 cases — on Saturday.
"If he continues to look and feel as well as he does today, our hope is that we can plan for a discharge as early as tomorrow to the White House, where he can continue his treatment course," said Dr. Brian Garibaldi, director of the biocontainment unit at Johns Hopkins hospital and a member of Trump's Walter Reed medical team.
So do we know how Trump is really doing?
At time of writing, not for sure, although the New York Times reports that he now seems to be in "better shape" than he was on Friday. Still, some of the details Conley provided today could point to a fairly grave infection: For example, the Times notes that Trump's oxygen levels dropped to 93 percent at some point, whereas the National Institutes of Health consider a patient with oxygen levels below 94 to have a severe case of COVID-19. And as NBC points out, dexamethasone is not recommended for patients with mild to moderate coronavirus: The steroid muffles the patient's natural immune response, preventing it from going into inflammation-triggering overdrive and attacking the body's cells. It is, per the BBC, "only suitable for people who are already in hospital and receiving oxygen or mechanical ventilation — the most unwell."
"The fact that he got the steroid sets up a bit of a red flag that there's something going on here," NBC News senior medical correspondent Dr. John Torres said Sunday. "I think they [Trump's doctors] might be painting a little bit of a rosy picture for everyone."
Dr. Esther Choo, a professor of emergency medicine at Oregon Health & Science University, agreed, telling the Times: "This is no longer aspirationally positive. And it's much more than just an 'abundance of caution' kind of thing."
But ultimately, the reality of the president's situation is known only to his medical team.