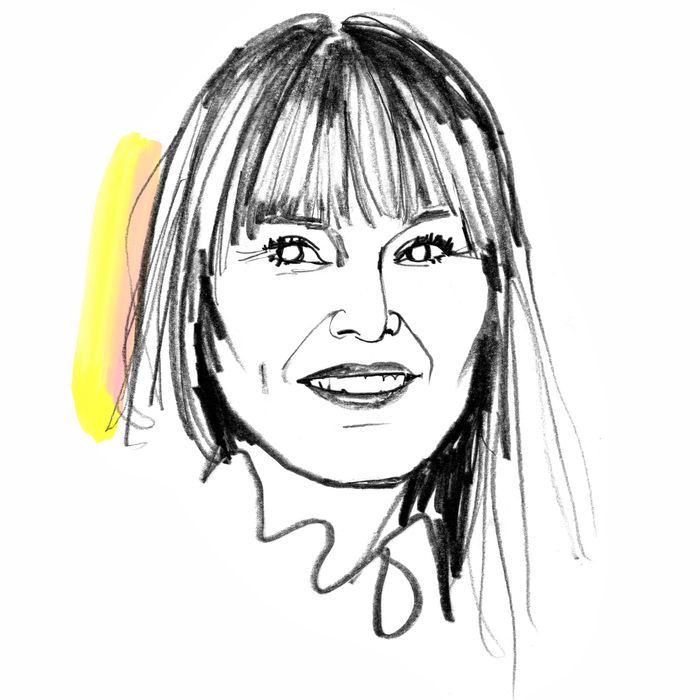 Illustration: Lauren Tamaki
For Amy Astley, life before the pandemic consisted of back-to-back meetings in Architectural Digest's World Trade Center office, followed by late nights out at events with interior designers, architects, celebrities — all in service of building relationships for the magazine, where she has served as editor-in-chief for the last four years. Then the coronavirus hit. Along with her husband, two college-aged daughters, and their wire-haired dachshund, Bear, Astley relocated to the house on the North Fork of Long Island that they've owned for 22 years. It's a calming backdrop for the round-the-clock Zoom calls that have become her norm. During her tenure at AD, Astley has built up the magazine's digital presence, growing its YouTube platform to nearly 4 million subscribers and launching related brands AD Pro, a membership service for the design industry; and Clever, which offers advice for designing a small space. She also authored a book last year, AD at 100: A Century of Style, which celebrates the best homes of the last century. Here's how she gets it done.
On screentime: 
I am in front of my screen all day. I start on the computer by 8:00 a.m. I'm heavily involved in production of a lot of things at AD — the whole magazine, and many aspects of the digital and video products too, like Open Door and AD Visits. So it's a full day. It's very scheduled. In the old days when we were all in the same office the team saw me coming in and out all day. But now, people don't know you're there or feel part of a team unless you make a huge effort. So we have an all-hands meeting once a week with the whole team, kind of just to see each other's faces. And then we break into smaller groups, because not everyone needs to sit through everybody's conversations.
On the pace of her workday: 
I spend all day mainly on Zoom, but sometimes phone calls too. I actually think that I'm working more than I did before. There are no boundaries. I'm often working at 9, 10, 11 at night. And I think a lot of my colleagues are too — you can see it in the cadence of their emails. I think it's because of people having children at home. And I've heard it from people in other fields and across the board throughout COVID. Maybe it's the lack of delineation between the home and the office.
On working out while WFH: 
I still try to exercise every day. So at home on Zoom, I'll do Physique 57. I still do Ballet Barre. And there's a little bit of live, socially distanced yoga outside here on the North Fork. I just love yoga. Physically, mentally, I think it's really good. I've gotten a lot stronger in both realms during COVID.
On WFH interruptions:
The dog's always barking and it's chaos. I did a Zoom seminar for AD Pro members with all the global editors-in-chief of AD and planned it with my husband, like, "you must remove the dog physically from the home." The dog barks at everything. It could be a squirrel. A delivery. So that's a challenge.
On releasing herself from expectations during the pandemic: 
I think a lot of people have felt really badly, like, "I should have baked bread and made yogurt and taught my kids French and become a marathoner and gotten into shape," and all these things that just felt too ambitious. So this is where I think for me, honestly, yoga really helped me. I have this great teacher who taught me to release expectations and live in the moment. Don't project too much to the future. Don't regret and live in the past. Do the best you can in the moment and just take the pressure off yourself. I'm now an empty-nester. My little ones have gone to college, and people keep asking me, "Oh, are you okay?" And I'm like, "I'm great. I'm in another season of my life," which is a season of my husband and I reconnecting without the stress of children. I miss them and I can't wait to see them at Thanksgiving. They're doing the things that they should be doing. I wouldn't be embracing the season I'm in now if I was missing them so desperately that I couldn't be in this moment.
On making a magazine remotely: 
We're super organized. We shoot a lot of houses a year in advance, because of the nature of the seasons. We took a break during COVID since you wouldn't want teams in people's homes. We're not allowed to fly teams around, but we can use local ones. And shooting a house is a low-touch situation. It's a photographer, that person's assistant, a stylist — a team of three. So we already had a lot of inventory, because we will shoot far ahead. I have enough inventory to do like six more issues without shooting anything. I've also often joked that I could sit here in my hallway on the North Fork and produce another decade of issues, and so could many of my colleagues, based on our connections to architects, designers, and interesting people.
On wanting to give people a "big wow": 
For print, I still use the phrase "a big wow" with the editors. I'm like, "Oh, this is a big, wow." I think with AD, people want to see a big wow, something really unique, extraordinary, breathtaking. It doesn't have to mean that it's the glitziest, the richest, the shiniest. Not at all. That would be an old way of thinking about AD, but something really out of the ordinary and special and memorable. We always know those stories, because people keep talking about them and using them as a reference point, like Drake in May. He was a big wow: the huge house, the custom Murakami piano, and the NBA basketball court in his basement.
On leaving New York: 
Many people I work with very intimately at Condé and at AD have let go of their leases, left New York, or gone home to live with their parents. It's harder for people who own their home to make a change. I think it's sad to see the talent drain, although because we're very virtual and remote, they can still work from elsewhere. Yeah, some people are leaving New York. They need more space. They have a family. They're desperate for the outdoors. But other fresh people will come in. Anybody who counts New York out just doesn't know New York.
On cooking: 
My husband's a really good cook. I'm not. He made amazing fish stew last night. We have incredible fish here, like clams and mussels and cod. It was so good. And then I had a half hour today for lunch. I warmed it up. I ate it all. He says he loves cooking for me because I'm not picky. I appreciate everything. Anything he makes I'm like, "That was delicious. Thank you so much for cooking," because I would just eat some hummus on a breadstick. I really would.
On encouraging others to take the next step in their lives and careers: 
People are taking this moment to say, "What do I really want? What am I really doing? Where do I want to live? Do I want to live in this little apartment in New York?" If you do, awesome, totally stay. New York's fabulous. But if you don't, I think you should go. Go be in nature if you want to hike every day. You don't have to go out for dinners. You don't have to go out with people you don't want to go out with. There's no obligation. You're not supposed to go anywhere because of COVID, right? So it is a moment where you can really think, "Well, what's making me happy? What's making me unhappy?" And that's, of course, a privilege to think that. Some people, what's making them unhappy is they have no job. That's a whole other level of misery. But if you aren't struggling to survive, I think it's a moment to think, "Well, how do I want to live? What do I want to do with my time?"