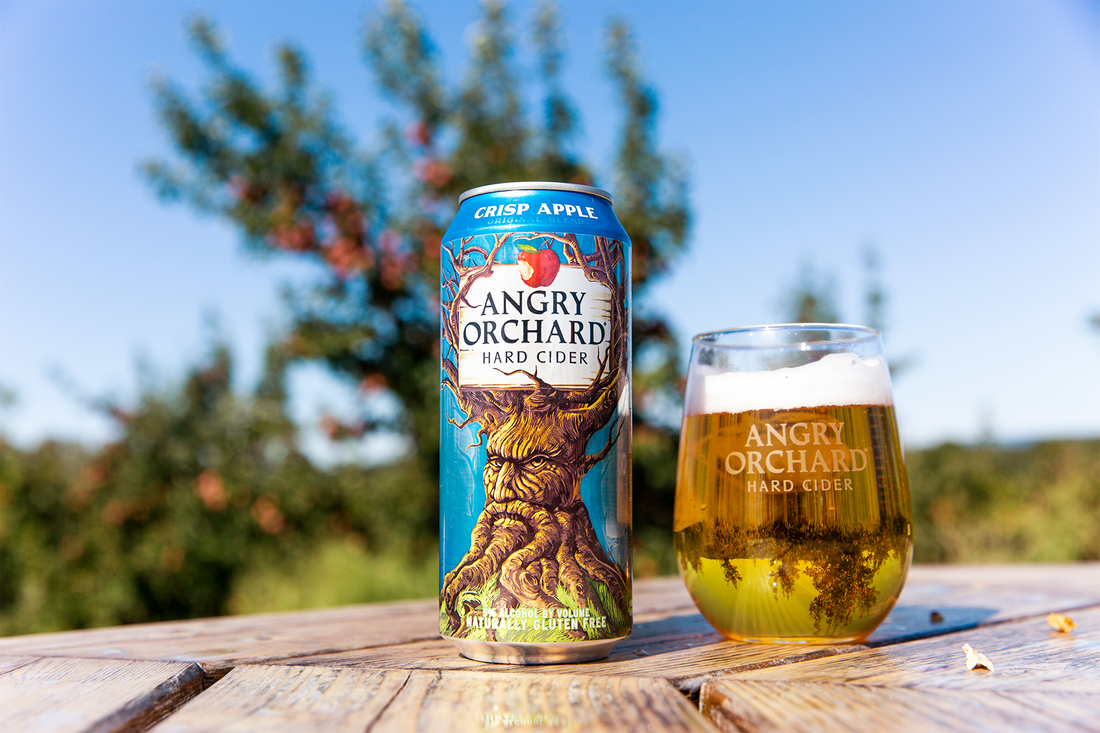 Photo: Courtesy of Angry Orchard
We all have that friend who, the moment the air turns crisp, knows just how to get us hyped for the changing season. Apple picking? They've got a map of the nearest orchards ready to go. Cozy sweaters? They tracked down your new favorite before Labor Day. Cider? Wait here — they'll grab you a can of Angry Orchard.
As the founder and director of community behind the weekly newsletter Girls' Night In, Alisha Ramos and Olivia Rogine dole out recommendations and inspiration all year round, but fall — with its sense of fresh starts and chillier, stay-at-home weather — is their time to shine.
In the era of social distancing, their role has also taken on new urgency: With tips for low-key activities, self-care rituals, and Sunday-night recipes, they've created a space for readers to navigate the challenges of 2020 together. Even as the pandemic put IRL hangs on hold, their members-only community The Lounge pivoted to virtual programming and became a place where gatherings could continue from afar.
As we prepare for a cozy season with friends and family, we asked Ramos and Rogine about what they're most looking forward to in the months ahead, the quarantine hobbies keeping them sane, and how they're socializing safely this fall:
What does fall typically mean for you? 
Alisha Ramos: Fall means nostalgia and new beginnings. This year especially, since I'm getting married in October and we've just moved into our first home!
This is dorky, but I loved my experience as a student, so as soon as the temperatures dip and the leaves begin to change, I get so nostalgic for that period of my life, making new friends and really leaning into all my curiosities and passions. These days, I'm trying to tap back into that fall feeling, and I've signed up for a few online courses on topics like interior design and floristry.
Olivia Rogine: I grew up in New York's Hudson Valley, where fall is a BIG DEAL. We often saw an influx of weekenders in the area in October and November because of the iconic fall foliage. I also worked on farms when I was younger, and went picking in my free time. Even now, those outdoorsy fall traditions have kept the season special to me.
Alisha Ramos, Founder and Chief Lounger at Girls' Night In
What are you looking forward to cooking once the weather cools down? 
AR: Most people don't know this, but I'm actually a Southern girl, so I'm most looking forward to making North Carolina-style pulled pork and coleslaw on the side. It's so easy, you just put pork shoulder and apple-cider vinegar in a slow cooker and let it melt over a few hours. It goes so well with a drink like Angry Orchard cider. I'm not a huge beer drinker, but cider has my heart for its refreshing, bright taste. Plus, imagine all the delicious fall smells in your home when you've got pulled pork going, a bucket of ice-cold Angry Orchard bottles, maybe a football game in the background. That screams "fall cozy" to me.
OR: For me, fall comfort food means the three "c"'s: carbs, cheese, and chili.
I won't hide it, I'm a mean cook, and anyone I've lived with will back me up on that. I've lived with a lot of great roommates, some of whom were gluten intolerant. While this challenged my cooking a bit (my favorite "c," carbs, was out), I was often in good company drinking wine or ciders like Angry Orchard. The Rosé is a personal favorite — wine and cider, the best of both worlds.
How do you like to stay active or be social in the fall?
AR: I'm staying active through my newfound hobby, gardening. It's surprisingly very physical! Our garden is fairly large, so walking to and from our shed, to our various garden beds, raking, dividing plants, digging, it's a great workout. Staying social will be tough this season. I'm trying to at least plot out a few dates where we feel comfortable having people over in our new backyard, safely. We're planning to purchase a fire pit and a projector for backyard movie nights.
OR: The usual suspects: book clubs, hiking, baking, and apple picking. My key tip to staying active and social in the fall is simple — do what feels good. There's a lot of pressure to make the most of quarantine by diving into a new hobby or exercising, but really, binge-watching your favorite TV show and just existing is okay. We should celebrate the mundane moments too because our world has been turned upside down — if you can find some joy and peace in doing virtually nothing, that's great. My GNI colleague coined a great phrase for this: "normalize the nopes."
How do you keep your virtual gatherings fresh and exciting after all these months?
AR: We source most of our ideas directly from our community. For instance, when we saw the huge success of a nail polish brand in one of our recent newsletters, we knew that our readers love to pamper themselves during a night in, especially now when we can't all go to nail salons. Our team reached out to the brand and we collaborated on a "Mani Master Class" for our Lounge members. It was a blast.
OR: While we have many recurring virtual gatherings like book clubs and cookbook clubs, I encourage our Hosts to keep things interesting by bringing their passions and interests to the community through different formats like knitting circles and DIY pickle-making. It's so delightful to see them dream up gatherings that are creative expressions of our communal values of care, connection, and curiosity.
What are your goals for Girls' Night In for the last few months of 2020? 
AR: We're launching a new consumer brand called Whiled this fall. It's a home goods brand that makes goods designed for downtime, and I can't wait for it to launch. It's been in the works for over two years now and is a direct reaction to everything I've learned as a founder about our community of readers and what they're looking for.
On the editorial side of the business, we're leaning into the fact that many of us will be spending holidays apart from family. We're looking to give our readers sources of comfort, ideas for connecting when they can't be there physically, and thoughtful gifting guides for friends and family you miss.
Olivia Rogine, Director of Community at Girls' Night In
It's been, let's just say, "a year." What gives you hope as we move forward? 
AR: It has certainly been a year! Bright spots: Getting married. Going on our mini-moon. Taking road trips. Exploring nature. Getting good at gardening. And gifting is a love language for me, so I'm excited for the holiday season to brainstorm gifts for our friends and family, especially now that we can't see them in person.
OR: For me, it's encouraging to see people showing up for one another in new and profound ways. In The Lounge, I've seen new friends that turned into roommates, the mentor connection that someone needed after losing their job, unwavering support for one another. This community has the capacity to care for strangers like I've never known and it's incredible to witness, especially during a time of loss and grief for so many.
I've seen these same bright spots in my local community — donation drives, free masks, the list goes on. When we slow down and actively practice gratitude for what we do have, we realize how we can better support others who need it most.
If you had to place a bet, what do you think fall's version of the sourdough craze is going to be?
OR: Well, I have a hunch we'll all be much more outdoorsy this fall — think hiking, biking, apple picking.
AR: I have a few ideas: Tie-dyeing your sweats. Knitting a scarf for your friendly neighborhood tree. Puzzle competitions, if you can have those. Growing your own mushrooms? Honestly, who knows?
This advertising content was produced in collaboration between Vox Creative and our sponsor, without involvement from Vox Media editorial staff.