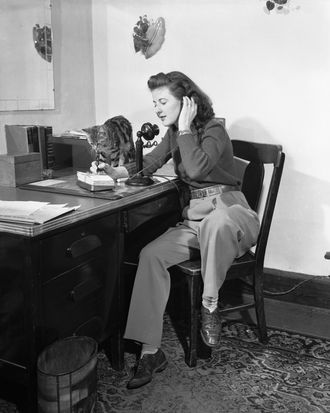 Photo: Bettmann Archive/Getty Images
We published this guide to close down-ballot races just one month ago. Since then, almost all of them have gotten even closer. Progressive candidates in some of the highest-profile Senate matchups are not only gaining on their incumbents but have surpassed them; there's now a good chance that even the Texas House could actually flip blue.
"But I'm not in Texas!" you say. Or in South Carolina or Arizona or Pennsylvania. Well, blessedly, that doesn't matter, because it has never been easier to make calls to voters in swing states from any location, via Knock for Democracy's phone-banking training and virtual call sessions. They tell you pretty much everything you need to know: whom to call for, where to call, and what to say to people when they pick up. And their group strategy makes the usual lonely activity of phone banking (even lonelier during a pandemic) communal, and possibly even fun.
Knock for Democracy has a handy schedule of two-hour trainings leading up to November 3. Pick one, sign up, and attend for free. You'll be given a tutorial so you don't have to prepare ahead of time. All you need is a phone and a computer. This weekend, they're making calls in Arizona on behalf of Mark Kelly and Joe Biden. Next week's focus is North Carolina and South Carolina, where Jaime Harrison is neck and neck with Lindsey Graham.
It's easy to feel totally powerless given the state of things. Make some calls this week, talk to some human beings, and maybe even convince one to make a voting plan — I highly recommend it.