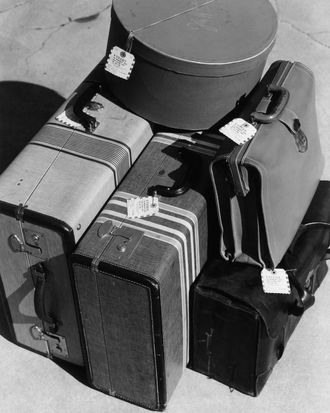 The Cut is asking readers to share what they're doing with their money — or lack thereof — in the midst of an unprecedented crisis. This week, we spoke to Kira, 29, who lost her job just before the pandemic hit and had to leave the country for fear of running out of money and overstaying her visa. She told the Cut about what it's like to be stuck in her native Australia as she tries to get back to her apartment in New York, where she's lived and worked for the better part of a decade (and is still paying rent).
I got laid off right before the pandemic started. The company where I'd worked got acquired, and the new owners decided to shut down the business very suddenly. We got less than a week's warning and no severance. I'm Australian, so losing my job was especially scary because I need an employer to sponsor my visa. Without that, everything becomes very uncertain. I moved to New York seven years ago, initially for an internship, and then I got a job there. It's home now, and I miss it terribly.
By the time the pandemic hit, I had a few job leads. But in mid-March, every company I was talking to went on a hiring freeze. At the same time, the Australian Department of Foreign Affairs and Trade started imposing restrictions on travel to Australia, and I was worried that I might not be able to get back if I had to.
At that point, I was also running out of money. I'm not eligible for unemployment benefits because of the type of visa I have. Luckily, over the past couple of years, I made the adult decision to save up an emergency fund. I had about $20,000 saved up, so I was living off that. But my health insurance was $500 a month, and my rent is $1,650, so I was going through my savings pretty quickly. The prospect of running out of money in the middle of a pandemic, plus my visa expiring, was extremely stressful. So in the span of a week in mid-March, I bought a plane ticket and flew back to Australia. The ticket was incredibly expensive, and it was very unplanned and last minute.
I left so quickly that I didn't have time to pack my things. I didn't even buy a proper suitcase. I thought I would be back soon, which is laughable now. I'm still paying rent for my room. I just got a subletter, but it took almost six months to find one. It's been complicated because I have two roommates, and I want to be considerate of them — obviously, in the middle of a pandemic, you don't want some random person showing up to live with you. Before she moved in, I had to get two of my friends to go to my apartment and pack up my stuff and put it in storage. The subletter is only paying 75 percent of what I pay, so I'm still covering part of the rent but that's much better than the alternative.
I landed in Australia 24 hours before the hotel quarantine went into effect, which was really lucky. Now the rule is that if you're flying into Australia, you are immediately escorted to a hotel, and you've got to stay there for 14 days. The hotel is staffed with doctors, and you get tested for COVID before they let you out. At first, the government was paying for it, but now the people in quarantine have to foot the bill and it's $3,000 Australian. No matter what level of hotel you stay at, it's a flat fee. I'm very glad I was able to avoid that cost and quarantine at home.
I know I'm lucky to have the option of living with my parents, and they are great. But I was miserable when I first got here. I felt homesick for New York, and I definitely had situational depression. Losing my job had really hurt my confidence, too. I saw a therapist here for a while, and that helped. In Australia, mental-health care is government subsidized up to a certain price, about $82 Australian per session, for ten sessions. My therapist cost about $120, so I wound up paying $60 myself and the rest was covered. It was definitely worth it.
By networking with my connections back in New York, I finally managed to get a contract position with my former manager, who's now working at a new company. The hope is that this is a temp-to-permanent position and they'll sponsor my visa so that I can come back. But there's been a lot of turmoil because visas aren't really being processed right now, and the rules around them are changing rapidly, especially with the election coming up. The immigration lawyers for the company where I work are now aiming to get me back in January. But it's hard to say, and I feel like I can't push them.
I work American hours, which means I'm basically doing night shifts because I'm 12 hours ahead. My team has been supportive, but it's difficult. I'm trying to engage with colleagues and participate in team calls, which are often at 5 a.m. my time. We recently had a busy period when I was working 16-hour days. I'd start work at 2 p.m. and go to bed at 6 a.m. Now I'm trying to log off closer to 2 a.m., but it's tough to set boundaries. This company holds so much power over my future that I don't want to rock the boat. There's always this black cloud [hanging over me] of whether or not they're going to sponsor my visa. When I was negotiating my salary, I didn't want to ask for too much, especially since so many Americans are unemployed and the talent pool is significantly larger than it ever has been. They could easily turn around and give the job to someone who doesn't need a visa and can be online until 6 p.m. or whatever. I still very much want to be back in New York, so I feel like I need to ingratiate myself to them.
Financially, things are a bit better now. Back in March, I was incredibly stressed. Even though I had saved an emergency fund for exactly this purpose — an emergency — seeing my bank balance go down and have no money coming in was an awful feeling. Now that I'm working again, my No. 1 focus has been to replenish that savings. I've also been watching the cost of flights, because I expect those to be astronomical. I probably won't have much warning before I have to buy a plane ticket; it's all going to be based on when I get my visa. A one-way ticket from where I live to New York in non-pandemic times would be about $1,500. But I've paid up to $3,500, and it could be closer to that or even more. So that's also a point of stress, but it's very outside my control so I'm trying not to think too much about it.