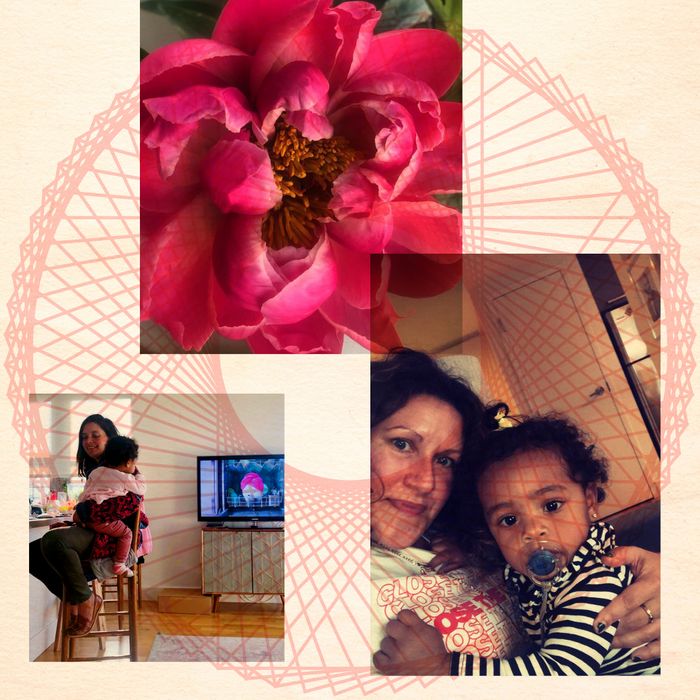 Photo-Illustration: by the Cut; Photos courtesy the author.
All in the Family is a series on kith and kin during a year like no other.
My home in Iowa City is sprawling and historical, with a covered porch, and rent is roughly $1 a square foot. My neighbors are a rectory and a church parking lot, so the ambient noise here consists of church bells and cicadas. By all measures, it is a peaceful, beautiful home to spend a lot of time in during a pandemic. Yet I feel homesick on a daily basis for my decidedly more cramped, infinitely noisier, and more hectic house in Brooklyn, where I spent eight weeks earlier this year.
I'm a New Yorker temporarily living in the Midwest for grad school, so, these days, when I'm home, I stay with my best friend, her husband, and their baby. "Best friend" is almost an improper title for her. She's really my family. We've done all the standard-issue best-friend stuff — nursed each other through breakups, offered counsel on careers, been bridesmaids for one another — as well as the extraordinary. We ran a business together, weathered the Great Recession, traveled the world, and shared a bank account for nearly 15 years. When my grandparents, who raised me, were sick and dying, she was by my side every step of the way, shuttling me to hospitals and funeral homes. When her daughter was born, and the doctor said "Grab her other thigh!" I was there to do it.
This past New Year's Eve, we were together — me, my best friend, her husband, and their 11-month-old — on a flight heading back from our annual Christmas vacation. In that moment, as 2019 turned into 2020, if someone had asked me whether anything could make us closer, I would have said no with total certainty. Of course, I didn't yet know that, in 2020, there is no certainty.
In mid-March, I had my spring break and — in my naïve mind — no mysterious virus was going to stop me from going home. (You may have guessed, I'm a reluctant Iowan.) "Besides," my best friend said, "if for some reason you get stuck, wouldn't you rather be with us than alone?" With a ziplock bag full of Clorox wipes, a suitcase full of clothes, and a strong yearning for ten days of city life, I boarded a plane, thinking, "What's the worst that could happen?" Two days later, the lockdown began.
In the early weeks of the pandemic, there was a game going around social media. "Pick your Quarantine House" offered a selection of awful-sounding scenarios in which to be sheltered in place. One read: "You're stuck with a married couple and their infant child down the street from a hospital." From the sofa, I called over to my friends, who were (as always) just a few feet away: "Guys, we're a meme!" In reality, our situation was even more extreme.
My best friend manages business services at the Brooklyn Navy Yard, which, up until the pandemic, meant organizing trainings, resources, and business-development opportunities for hundreds of tenants. Overnight, her job changed dramatically. Now, she was tactically trying to help these companies survive. Who can pivot from making whiskey to making hand sanitizer? Who can start producing masks? Who can become an essential business? How can they connect people to PPP and unemployment? She worked from the kitchen while her husband, an executive at a company that deals with renting space to groups and was in an equally stressful work situation, operated out of their bedroom. On Tuesdays, I would Zoom into my writing workshop and, whenever I unmuted my microphone, everyone would ask, "Can you please speak up? We can't hear you over the sirens."
About two weeks into the quarantine, my best friend got a terrible headache, followed by a bad fever. The next day, seemingly out of nowhere, I let out a guttural cough. That afternoon, I heard her husband coughing from his "office." Soon, we could barely get out of bed, our exhaustion making us all feel drugged. None of us could taste or smell. There were night fevers, chills, coughs, and pounding, horrible headaches. It was, for the record, nothing like the flu. We weren't able to get tests, but we were lucky to have access to telemedicine. We would feel better one day and worse the next. Did I mention we were also trying to sleep-train a baby who still got up between four and five times a night?
Anxiously, we sweated out that first week. If the illness hadn't gotten worse by then, the doctors told us, it would probably get better. And, thankfully, it did. My friend's symptoms lingered the longest. I don't think any of us registered how frightened we were until we felt the relief of being well again.
Through all of this, I want to say, my friends never stopped working. Trying to avoid layoffs, then furloughs. Trying to help connect businesses with life lines to keep even just a few more people from losing their jobs or going under completely. One day, I was in the room while my best friend was on a Zoom call trying to help a company pivot to begin producing body bags. It was a dark time.
As a writer of fiction and navel-gazing essays, I felt useless. So I attempted to put myself to work in other ways. My goddaughters' nanny (who, like many service workers, also contracted COVID-19) lives in Sunset Park, in a Latinx community devastated by the virus. Between the overwhelmed staff and language barriers in local hospitals, once a relative entered a hospital, it could prove nearly impossible to get updates. When I made calls to help track people down, the news was not always good.
And yet, in our household, it was also an oddly sweet time — especially once we started to feel better. Life, once so complicated, suddenly boiled down to the simplest of tasks, performed for and with the people I love. Since I was the one who didn't have, you know, a real job, I took it upon myself to become our resident Chef Pepín. As the weeks went on, my meals became progressively more elaborate, and grocery-shopping expeditions became momentous events. We'd gather to assemble our shopping lists and take turns standing in the long line at the local Ideal. Wines, chosen with care, were delivered frequently.
Once, friends left a peony bud in a vase for us down in the lobby of the building. Every morning while it was in bloom, we remarked on it. It was the most gorgeous flower. I doubt we'd have noticed it in normal times.
New rituals emerged. In the mornings, the toddler would say "Wowows" and we would watch The Secret Life of Pets 2 … again. After breakfast service, I'd walk a lap around Prospect Park, catching up with my girlfriends by phone, our conversations more leisurely than any of us have had time for in years. At 11 a.m., everything stopped and our household would gather in the living room to watch the most riveting show on TV: Cuomo and the Curve. In the evenings, we'd have happy hour. And at 7 p.m. every night, after clapping for our frontline workers, we'd all go to D-Nice's Club Quarantine. Dancing with a 20-pound baby for an hour proved to be a pretty good home-cardio option.
As the curve flattened and the weather warmed, we would venture outside, taking long walks with the stroller to visit loved ones in their backyards, appreciating the simple joy of seeing familiar faces, even from a distance. That enjoyment seemed to slow down time. It gave us a chance to really talk — and a fresh understanding of just how deeply we had undervalued hugs. A writer's life is solitary for a reason, and come May, deadlines loomed that seemed impossible to meet in our hectic live/work/play space. I half-heartedly repacked my bag.
I have lived through '90s New York, 9/11, the blackout, the recession, and Hurricane Sandy. None of it prepared me for the spring of 2020 in New York City. But as I sit here in Iowa, holding my pandemic puppy and longing for home, I am so glad I was there. My best friend, as usual, was right: I got stuck, and it was infinitely better to be with family than to be alone.
Xochitl Gonzalez is the author of Olga Dies Dreaming, forthcoming from Flatiron Books.