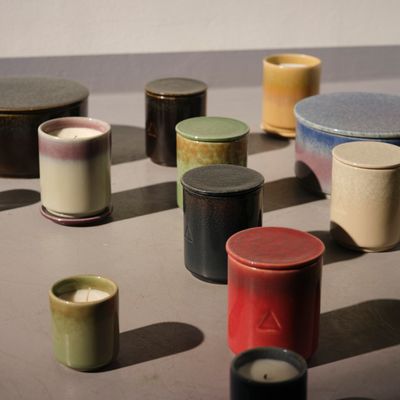 A long, long time ago, in a galaxy far, far away (the year 2017), there were whispers of a very Swedish collaboration between Swedish budget retailer IKEA and luxury Swedish fragrance house Byredo. Well, we finally know what that cryptic IKEA blog post referencing cinnamon buns and scents in the home was actually talking about: OSYNLIG, a collection of 13 limited-edition scented candles created in collaboration with Byredo's Ben Gorham.
"Osynlig" is Swedish for "invisible" and refers to the way a scent can infuse your home with the "invisible design" of fragrance. "Smell is a very relevant part of the home, and it creates a sense of comfort and security," Gorham said in a release. Simply lighting a candle can decorate rooms with memories and "heighten the experience of being at home," where many of us are now having most of our experiences these days.
Sniffing 13 different scents to find your favorite sounds daunting, but the collection is conveniently divided into three categories — fresh, floral, and woody — to help guide your nose. Fresh people may enjoy tea leaves and verbena, or basil and mint. Floral fans may gravitate toward peach blossom and bamboo, or rose and raspberries; and people of the woody persuasion may like tobacco and honey, or perhaps Swedish birch and juniper.
The visible design elements can also help you pick out invisible fragrance decor. The 13 scents come in 19 different hand-formed ceramic vessels of varying shapes and sizes, each glazed with a blend of two colors Gorham chose to represent the ingredients used in it. Most come with matching lids, and all are designed to store tiny things (your miniature purse, your single pearl earring) long after the candles are finished.
But the best news is: You don't have to pick one favorite. Most of the candles in the range come in one size that costs $9.99, with the biggest costing $24.99 and the smallest a heartwarming $4.99. Basically, you could use your budget for a single Byredo candle to buy nine of these and hygge your entire house in one trip. Get an OSYNLIG for your DOCKSTA, a few for your KALLAX, and hell, one for every shelf of your BILLY while you're at it. The collection launches in stores and online on November 1, 2020.