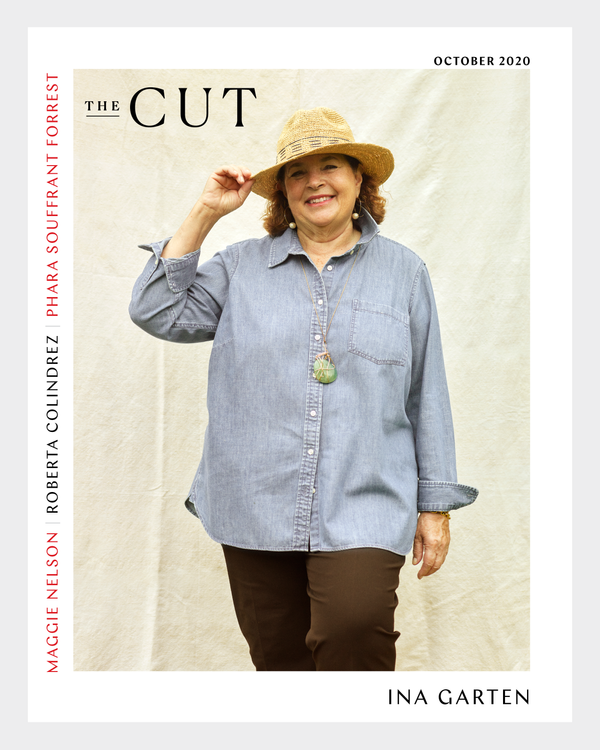 Chef, TV host, and author Ina Garten is the Cut's cover star this October. Over the years, the Barefoot Contessa has owned a specialty food store, hosted her own Food Network show, and released several cookbooks. In the past six months of the pandemic, Garten has been making morning cocktails and finishing up her latest book, Modern Comfort Food, available on October 6. Her work always reflects her passion for cooking and embraces the joy a meal can provide, and it always inspires awe and envy.
Shot on the picturesque grounds of her East Hampton home by photographer Catherine Servel, Garten poses with ease, making it clear that she's in her element. The gardens are exceptionally green and filled with blossoming vegetation. "I wanted to have something that felt abundant and generous, the idea you have when people love to cook," says Servel.
In these photos, Garten wears a familiar uniform of a denim button-down, brown trousers, a sun hat, and a blue silk scarf. In several shots, Garten poses with a large bouquet of flowers. Servel chose to shoot in Garten's yard and include the floral arrangement to depict her "relationship with nature and natural ingredients. That kind of relationship I felt was nice for her personality," she says.
Although the photographer notes that this shoot was constrained by social-distancing rules, she wants these photos to present a sense of normalcy to viewers. "I hope they take away something positive and something warm and inviting," Servel says.
Read the full story here.