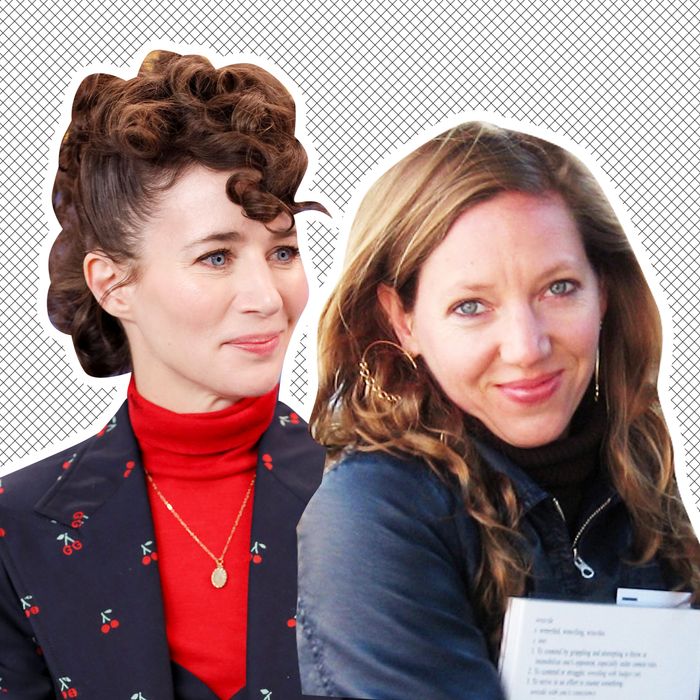 Photo: Getty Images, Harry Dodge
Neither Miranda July nor Maggie Nelson is known for shying away from things. Both artists are interested in the open oozing hearts of the human experience, as demonstrated by work like Nelson's genre-bending family memoir, The Argonauts, and July's excruciatingly intimate short stories, films (including Me and You and Everyone We Know), and novel, The First Bad Man. Both artists are also unafraid of playing with form: Nelson has long proven the power of telling a story through poetry, and these days, July uses her Instagram to tell tiny stories about human connection.
July's latest film, Kajillionaire, available now on VOD, follows a young woman named Old Dolio (Evan Rachel Wood) who is caught in a toxic cycle with her con-artist parents (Richard Jenkins and Debra Winger), who ask her to do scam after scam with them. When the family meets Melanie (Gina Rodriguez) in the midst of a new scam and convince her to join them, she upends their lives — especially Old Dolio's life and her entire way of seeing her limited world. In true July fashion, the director navigates issues of family and queerness with wit and whimsy, unspooling uncomfortable truths in her own unique way.
July and Nelson, who are close friends, recently let the Cut eavesdrop on a conversation about the themes of Kajillionaire, which include the complications of parenting, the longing for touch, eros, and the power of dance.
Maggie Nelson: Throughout the movie, there's a longing for touch, which I think could stand in any time — but in this time, it felt nearly unbearable. It gave Old Dolio's touch phobia a whole new dimension. What are your thoughts now about touching, or longing, or eros, compared to when you were filming?
Miranda July: I remember watching it before the pandemic and thinking there's so much buildup that the release is almost Victorian. I know that I'm calibrated that way — someone touches my hand and I'm processing it for a month. It's funny to me that this intimate, personal thing I was trying to get across through this character is now readily accessible.
M.N.: I was fascinated by your taking on this queer, quasi-female-identified (but potentially not), part lesbian, part love-eros thing. And you match it, in part, with this drive toward the mother and the "boob crawl [in a birthing class, Old Dolio watches a video of a newborn who's placed on the mother's torso and seeking the breast]." It made me think about all of the different drives that constitute that drive toward touch.
M.J.: I remember in my birthing class when I first learned about the breast crawl. The idea is that it's the baby's first act, and it's an act of agency. It's this heightened, devotional, prideless state, which, to me, is romantic because it's beyond romantic. It's exotic, it's religious, it's desperate, you know? I wanted it to say, "I give into this. I accept you. And here's a way to show it."
M.N.: I read that you were calling this your "family movie." We obviously have a lot in common with this — certainly, when I wrote The Argonauts, every single time I was introduced as having written a book about family. But you're able to take parenting and make brand-new allegories around it. I was really delighted by, and fascinated by, the tone you were able to achieve at the end of the film — the idea that Old Dolio keeping the deal with her parents was not the same as love but that it wasn't nothing.
M.J.: I have so much to say about that, and my most articulate way of saying it is the movie. There's this sense of, "Oh, now we're mothers, so we'll make work about being mothers." And then we make these really disfigured, weird, disturbing things — which do have the word family and the descriptions of them. But you have to have that, and that will put some people off and they won't go further. But you have to start there so that you can take it apart or relearn it.
M.N.: Just to talk a little bit more about the movie itself, I've always been really interested in movies and dance and how to capture movement on film. When I began watching your movie, I was like, Oh my God, it's a dance movie. Then culminating in the dance that Old Dolio does — there was this idea of wildness and being feral. But I wasn't really thinking about that; I was thinking about wordless moving.
M.J.: I'm not a dancer. Part of it is like: I'm in here writing so much of the time in my office, and it gets so wordy. I think after a while, I realized I want the relief of things that are not going to happen in dialogue or description. It's joyful, and then also to get to show rage and out-of-control-ness without saying those words.
M.N.: I brought it up before, but that line where Melanie says to Old Dolio, "You're addicted to them [her parents]," in this kind of shaming way, I laughed out loud. It was so funny, but it also made me think where you begin as an infant in a state of total dependence and attachment. It's bad, but again, with the boob crawl, you're ravenously looking for what you need to survive. The feralness of the addiction is entirely warranted and then it alters throughout your life. I loved the movie for that reason, because of that line and also the temporal period, the weirdness of being 26 and living with your parents and the question of attachment and addiction.
M.J.: I feel like in so many movies, it's like: then they go to New York and they're free. In the script, it says all she wants is to go home. When she gets to Melanie's, we should be like, Oh, thank God you're in a new space. But you should feel that pull to go back.
I relate to that, and I used to feel strangely guilty with my own parents. In a way, the less attached you are, the more guilty you feel when you leave. That's our whole job as parents: that hopefully the kid is just like, I love you. Bye.