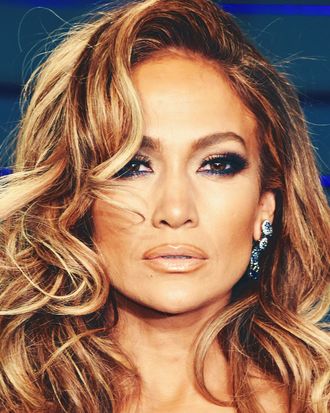 Photo: John Shearer/Getty Images
I'm sorry. Despite writing this headline, I must admit I don't really know how Jennifer Lopez looks so good. Don't go! I'm very sorry. I know it's obviously genetics. Plus: breathing, sleeping, drinking water, no caffeine, no smoking, and no alcohol. It's partially thanks to professional help, and maybe, in some small part, to her beauty rider.
Instagram celebrity gossip account @DeuxMoi, which collects anonymous submissions, recently posted a screenshot of a single-spaced Excel document that's allegedly the beauty section of J.Lo's "rider" — a document containing an artist's demands for a performance or professional engagement. (Mariah Carey's rider supposedly contained vanilla Jo Malone candles, white roses, and leafy, green plants, for example.) It's the first rider I've ever seen that's specifically for beauty, and it contains 90 products.
I recognize the possibility that this document is not real. But I also think it's scattered with clues that indicate that it could be. It contains La Mer, her moisturizer of choice (although it also mentions four other moisturizers.) It mentions products she's talked about in interviews, and those by her longtime beauty team of makeup artist Scott Barnes and the late hairstylist Oribe.
And as someone in beauty, I find it very satisfying. She also requests two different sunscreens and four masks. She asks for 28 hair products. There is even a small section called "AR" (presumably for ARod), with four product requests. Sadly, it does not include makeup.
It may be hard to read, but I zoomed in and did the work for you. Below, I have listed every single product, some with annotations. This should tide you over until J.Lo's own beauty line launches sometime soon.
The 10 Most Shoppable Items From J.Lo's Alleged Beauty Rider
Fans love this rich, gently scented moisturizer for making skin feel healthy and radiant. In a 2014 Watch What Happens Live, J.Lo supposedly mentioned that she loves buying it in Whole Foods.
An eye cream from Japan. She also requested the brand's moisturizer.
She allegedly prefers the green one, which offers Maximum Redness Relief.
Makeup remover wipes with micellar water.
Celebrities and mere mortals alike swear by this as a way to revive dry or over-processed hair. Olaplex Bond Perfector No. 2 is also on the list.
The Beauty Rider specified the lavender kind.
The throat lozenge of choice for singer and Broadway performers. J.Lo allegedly prefers the Black Currant flavor.
Not only does the rider include this extra-strong spray, but it also asks for the merely strong variety.
All the Other Skin Products J.Lo Supposedly Asks For
•Dr. Mekelburg BPM Dermatopics
•Lancer Younger Revealing Mask Intense Treatment (Dr. Harold Lancer is one of Hollywood's top dermatologists, with an office on Rodeo Drive).
•Lancer Radiance Awakening Mask Intense
•Lancer Intensive Night Treatment
•Lancer Retexturizing Treatment Cream
•Lancer Eye Contour Lifting Cream (This contains diamond powder).
•Lancer Younger: Pure Youth Serum
•Lancer The Method: Nourish
•Lancer The Method: Cleanse
•Lancer The Method: Polish
•Lancer R3 (I couldn't find this.)
•Lancer Soothing Mist (Or this.)
•Lancer Sheer Fluid Sunscreen
•Skinceuticals Ultimate UV Defense (Unfortunately, this appears to discontinued).
•Tarte Marajuca Bronzing Serum (This also appears to be discontinued).
•SK-II Facial Masks (The O.G. of fancy sheet masks).
•SK-II Skin Signature 3D Redefining Mask (Discontinued, or only available in Asia).
All the Other Hair Products She Supposedly Needs
•Bumble and Bumble Bb.Curl Anti-Humidity Gel-Oil
•Bumble and Bumble Surf Foam Blow Dry
•Redken Diamond Oil Shampoo, Diamond Oil Conditioner, Redken Blonde BBB Spray, Redken Diamond Oil Deep Facets Mask (All discontinued)
•Redken Haircolor Stain Remover Pads
•Oribe Rock Hard Gel (JLo worked with the stylist Oribe for ten years, and credited him with helping her blossom "into JLo.")
•Oribe Gel Serum Radiance Magic and Hold
•Oribe Gold Lust Transformative Mask
•Oribe Impermeable Anti-Humidity Spray
•Oribe Superfine Hairspray
•Oribe Superfine Strong Hairspray
•Oribe Dry Texturizing Spray
•Oribe Smooth Style Serum Moisture and Hold
•Oribe Root Touch-Up (Light Brown)
•Oribe Curl by Definition Creme (Discontinued)
•Oribe Masque for Beautiful Color
•Oribe Gold Lust Nourishing Oil
•Kerastase Elixir Ultime Sublimating Oil Infused Shampoo
•Kerastase Elixir Ultime Fondant Conditioner
•Kérastase Elixir Ultime Oil Serum
•Kerastase Reflection Chroma Reflect Rinse Out (This might be sold-out)
•Kerastase Chronologiste Essential Revitalizing Balm
•Kérastase Nutritive Hair Balm for Severely Dry Hair
•Kérastase Resistance Substance Constructive Vita-Cement (Discontinued)
•Kérastase Discipline Oleo Relax Anti-Frizz Oil Serum
•Matrix Sleek Look 24 Smooth Muti Med Shampoo 1
•Matrix Sleek Look 24 Smooth Muti Med Conditioner 2
All the Other Body Products on the List
•L'Occitane Lavender Shower Gel
•L'Occitane Neroli and Orchidee
•Tocca Stella Bagno Profumato Body Wash
•Hermès Eau Des Merveilles Perfumed Bath & Shower Gel (Discontinued)
Scott Barnes Body Bling Platinum (Her long-time makeup artist, who is also credited with creating the JLo look.)
•Scott Barnes Body Bling Original
There Were Also 5 Tanning-Related Items
•Gillette Venus Sensitive Women's Disposable Razors
•Portofino Beverly Hills products (I can't find these).
•Brazil Bronze Anti-Aging Spray Tan Mist
•Brazil Bronze Glow Stretcher Tan Enhancer
•DS Faux Natural Sunless - 360° Sunless Mist
And 7 Related to Oral Care
•Chapstick Classic
•Cold Sore Treatment
•Colgate Wisps
•Crest with Scope toothpaste
•Johnson and Johnson Dental Floss
•Listerine Mint Mouthwash
•Oral B Soft Toothbrush
These Were Listed Under "AR" (As in A-Rod?)
Aveda Rosemary Mint Shampoo
Aveda Restructuring Gel
Gillette Edge Sensitive Shave Gel
Gillette Sensor Simple 3 Men's Disposable Razor
And Then There Are the Miscellaneous Ones
•Non-Acetone Nail Polish Remover Pads
•TheraTears Eye Drops
•Aquaphor
•Ardell Wispies Demi N3
•Ardell Individuals Long and Medium
Every product is independently selected by our editors. Things you buy through our links may earn us a commission.