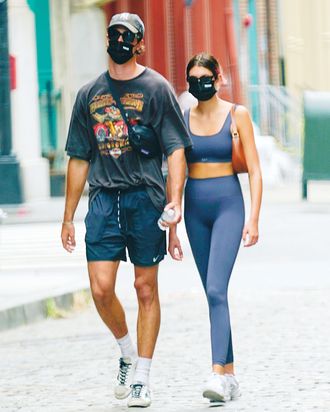 A modified sort of cuffing season is upon us, and to kick things off, Kaia Gerber and Jacob Elordi are reportedly a couple now.
The romance has progressed quickly through the tabloids, from the "spotted at a sushi restaurant together" phase to the "Yeah, they're probably just dating" phase. In early September, the 19-year-old model and 23-year-old Euphoria star were seen eating dinner at Nobu Malibu. Just days later, they were seen again, this time on the other side of the country, holding hands as they walked the streets of New York City. According to People's source, "Their fingers were interlocked, and they seemed comfortable together." Fingers interlocked? These days, you don't do that with anyone unless they are very special.
If that weren't enough evidence of a relationship in the making, the couple was photographed vacationing in Los Cabos, Mexico, with Gerber's parents, Cindy Crawford and Rande Gerber, during the third week of September.
Fast-forward to this past weekend when Gerber and Elordi were spotted yet again at Nobu Malibu dining with friends. A source told People that Gerber looked happy, and "it was obvious that things are great with Jacob. They were very affectionate and cute." Of course things were great — they were at Nobu Malibu, apparently their favorite place to be noticed, looking happy. Let this new couple be an inspiration for those of you looking to get over Pete Davidson and/or Zendaya before winter.