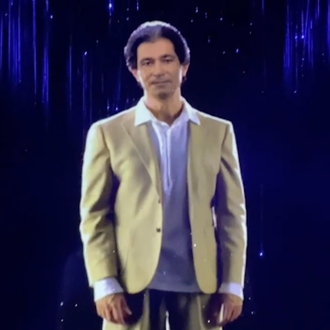 How does this work??
Photo: @KimKardashian/Instagram
Kylie Jenner did not make it to the private island for Kim Kardashian's 40th birthday party, but thanks to the miracle of technology, Kim's late father … did? On Thursday, Kim shared her gift from husband Kanye West to social media. It is a hologram. A hologram of Robert Kardashian Sr., achieved through feats of computer animation I cannot begin to fathom. Although I understand similar phenomena have been documented before.
Kim, however, is not concerned with the logistics, calling the hologram "the most thoughtful gift of a lifetime." Robert Kardashian Sr. died from esophageal cancer in 2003, and as Kim noted on Instagram, his hologram "is so lifelike." So, so lifelike. The level of detail really grabs you! The hologram gestures and dances around and nods to familial jokes, animated by digital forces well beyond my grasp.
Kim loved it, though, and I suppose that is what counts.
"We watched it over and over, filled with lots [of] tears and emotion," she continued her caption. "I can't even describe what this meant to me and my sisters, my brother, my mom and closest friends to experience together. Thank you so much Kanye for this memory that will last a lifetime."
Judging from the more modern references in his message, Robert Sr. did not pre-record the greeting. In it, he praises his daughter's "commitment to becoming a lawyer" and her multiple businesses, events he probably couldn't have foreseen 17 years ago, plus he shouts out her marriage to the "most, most, most, most, most genius man in the whole world, Kanye West." Therefore, I think we can comfortably conclude that Kanye managed the copy, but how did he manage a resurrection via the internet?? Please spare me all Yeezus/Jesus wordplay, my brain cannot accommodate anything else at this time.