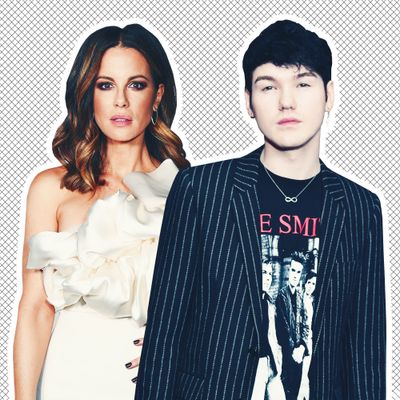 Approximately six months after we first saw Goody Grace with Kate Beckinsale — I bet you thought I was going to say "the Devil," heh — the actress has reportedly split with her Crucible boyfriend. According to Us Weekly, the pair actually broke up "some time ago," but when, exactly? I cannot say.
Still, E! reports that the relationship lasted about nine months, during which time Beckinsale and Grace — a 23-year-old musician who, per Hollywood Life, "vibes on infinity" — were spotted going for walks and holding hands and walking out of the grocery store together, essentially enjoying all the limited activities quarantine affords.
"Kate and Goody are having a lot of fun together, get along great and enjoy each other's company," an unnamed source told Us Weekly in August. "But most of Kate's friends don't think this is a long-lasting/forever type of relationship."
Well, whatever. For a while there, it really did look like they were having a nice time:
People's sources attribute the split to Grace being "young and [having] other priorities," but do not worry. "It's not a big deal for Kate," the sources reportedly said, adding, "It was great for Kate to have him around during the lockdown."
But maybe "Why did they break up?" is, for you, a less urgent question than "Why is Goody Grace called that?" I can only offer: Because it is his name! Because he cannot have another in his life! And possibly also because he had neither read nor seen Arthur Miller's The Crucible before legally adopting the name Goody Grace at the age of 18 and did not realize that Goody is a designation primarily reserved for women accused of witchery in late-17th-century Salem. I'm not sure he has commented on his Crucible consumption, but he has claimed "it's just a name [he] came up with." Pffft. As if.