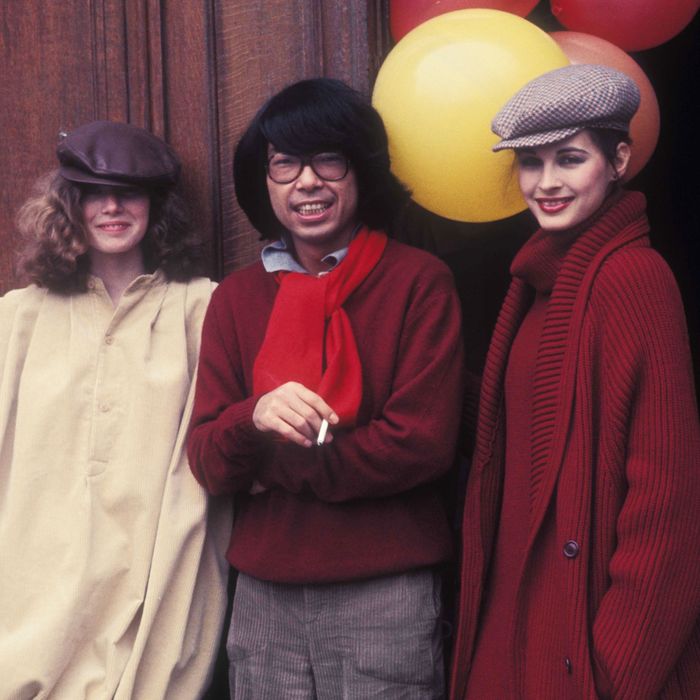 Photo: Guy Marineau/Starface/Headpress//Redux
Kenzo Takada, who passed away at age 81 this weekend from complications of COVID-19, was a towering creative icon I looked up to and a person who lived his life in a way I could always relate to: a gay Asian man working in the mostly white fashion business, finding his voice.
People reference Yves Saint Laurent and Karl Lagerfeld as the major fashion figures of the 20th century, but to a gay Chinese boy who grew up living in the suburbs, Kenzo was the biggest star.
In 1994, I was living in Berkeley and would frequent the Salvation Army store with my friends Carol, Cynthia, David, and Gina. We would run in like we were in a marathon, and we had a strict rule: No going ahead of your aisle. That's where I purchased my first Kenzo piece, a tight, animal-print T-shirt. This piece was special to me, even though it wasn't fancy — like something I wanted to wear only to special events. It made me feel super-sexy. I remember thinking the name was so cool. KENZO. I had recently bought my first issues of Dazed and The Face, and I would come across stories with the name Kenzo once in a while. I learned that Kenzo was a Parisian fashion house and that the shirt I'd found was a European gem. As my fashion conversations grew, I started to learn that Kenzo was in fact a Japanese designer who had migrated to Paris and started this brand.
On my first trip to Europe, during college in 1996, I dragged my friend along to the Kenzo store to check it out. The clothing looked so bright and flamboyant but also had a street vibe to it. When I visited the shop, I noticed all the clothing was somewhat sexy. The pop cliché of Asian males, especially growing up in America, was of intellectuals and nerds with glasses or very put-together types, but sexy was not part of the vocabulary. I wanted to feel sexy, and here was an Asian man designing clothing that could make a guy seem sexual in a way that made sense to me.
In 2006, the book The Beautiful Fall came out, and it was my first dive into the history of Parisian fashion. I was fascinated to learn that Kenzo was responsible for bringing prêt-à-porter to Parisian fashion. His ideas for what and how experiential a show could be created joy in a very serious industry. His nonchalant "streetwear" shop celebrated Carine Roitfeld, Grace Jones, the model Sayoko Yamaguchi, and the many others who flocked to Kenzo's shop to buy the incredible global designs he was offering. The book also revealed that he was taking Paris by storm and dating as much as all the other hot designers. I didn't have many gay Asian icons to look up to (Leslie Cheung, but he wasn't in fashion). When Carol Lim and I started Opening Ceremony, I thought often of Kenzo — we too had a store that celebrated global wares.
In 2011, Carol and I talked about how to celebrate our tenth anniversary. We wanted to prove to ourselves that we could affect a business other than our own and make our mark. After a night of brainstorming on brands we would love to work on, Kenzo was first on the list. On our first call with Pierre-Yves Roussel of LVMH, which had purchased the brand, he mentioned that the job [creative director at Kenzo] was being filled, but if we were serious, we could come to Paris in two days and present a project to him and the team. Driven and excited, we worked overnight, as if on a college term paper, landing in Paris within 30 minutes of our interview. We got the job and toured the offices.
It was one of the most important moments of our lives, not because it was a fancy Parisian job but because we were the first Asian creative directors to take over the first and only Asian-founded Parisian fashion house. This may not seem like a big deal, but to us, with dreams of "making it" in fashion, the significance was enormous — a ceiling had been broken.
We took the job and the responsibility seriously — we wanted to give every Asian intern working at fashion houses (and we know there are quite a few) a proven example of how to succeed. Success to us meant the business needed to do well, or "perform," but the first thing we did, before we even started, was to write Kenzo a letter telling him how excited we were to embark on this journey and that our No. 1 goal was for him to be proud. At this time, in 2012, he had nothing to do with the brand anymore, but we didn't care; our goal was for him to feel he had passed the baton to us and we would bring the brand home for him. I took the responsibility incredibly seriously to make the house the most inclusive, most diverse that Paris had yet seen, because that's what Kenzo had meant to me: bringing all types of people together and making them feel at home.
Every show we did at Kenzo was a dedication to him. We dug into the history and legacy of his brand, looking for inspiration. Our first show showcased his distinctive, intuitive use of bright colors and his signature color blocking, which had been referenced by everyone from Dries Van Noten to APC. We shot our first ad campaign with three beautiful Black women, Alek Wek, Ajak Deng, and Nairoby Matos, as an ode to Kenzo's muse Grace Jones. Our second collection was supposed to fulfill his dream of working with Juan Gatti in the 1970s, but Juan never made it to Paris so he created these incredible fruit prints, and this was the season we birthed the tiger icon. Jean-Paul Goude was always meant to work with Kenzo but somehow never did, so we brought it full circle by hiring him to do our second campaign, which brought the tiger into global phenomenon and continued with an H&M campaign. Our spring 2017 Studio 54 collection paid tribute to the show Kenzo did at the famous New York club. We worked with Pat Cleveland and Donna Jordan, two famous models who had walked for Kenzo, and we used photos from Antonio Lopez, someone who had collaborated with him.
One of our biggest tributes to Kenzo was the spring 2018 show, where we designed for his muse and frequent collaborator Sayoko Yamaguchi and our muse Ryuichi Sakamoto. We cast 83 Asian models to walk the show. We used our time there to tell the younger versions of "us" that we matter and that we can reach these high places, just as his existence had told me. Kenzo came to all of our shows, and he was the celebrity I cared most about. I always ran up to him afterward, and he always told us how much he appreciated our efforts to keep the past alive.
After each collection, Kenzo would write us letters, handwritten on his letterhead. To hear that he felt honored and excited about our work at the house meant we were doing the right thing. It was the conviction we needed and craved to keep going. We were often asked how we approached designing for Kenzo, and my answer was always the same: I wanted it to feel as if he were designing it, a natural progression of his modern approach that he brought to Paris in 1970.
People always say never meet your idols, but in his case, I think they are wrong. Kenzo was everything I expected, and more.