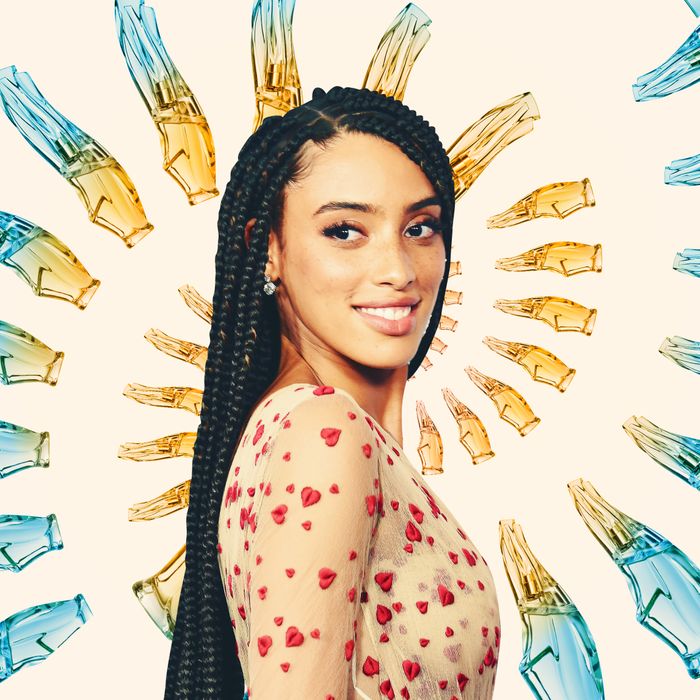 Khadijha Red Thunder.
Photo: Getty Images
Scientific studies confirm that of all the senses, smell offers the best recall. In Scent Memories, the Cut asks people about the scents they associate with different times in their lives.
Next up is model and actress Khadijha Red Thunder, one of the five new faces of Donna Karan Cashmere Mist, the '90s fragrance inspired by the feeling of cashmere against bare skin. Khadijha stars alongside Lais Ribeiro, Lea T, Marihenny Pasible, and Lisa Washington in a new campaign that celebrates women, the female form, and the fragrance, which lightly layers you in jasmine, lily of the valley, sandalwood, and vanilla. The Cut caught up with Khadijha to talk peanut butter, park leaves, and the perfect way to apply perfume.
My first scent memory is: Going to my uncle's Halloween party when I was younger and smelling the hay combined with pumpkin pie and all the food; a combination of sweet, savory, and farm. All the good autumn stuff.
Happiness smells like: Cinnamon. Warm and inviting, sweet and a little spicy.
Love smells like: Fresh-cut grass, combined with lilies and hydrangeas — fresh, sweet, and light.
Heartbreak or loss smells like: Burning wood or a fireplace. It's smoky but necessary sometimes, just like fire.
Friendship smells like: Wet bark, freshly rained on wood, and crisp autumn leaves falling in the park during a stroll.
Regret smells like: I don't know why but I keep thinking of peanut butter. Regret smells like a peanut butter cup. Chocolate and peanut butter. Like, why did I have that Reese's earlier? Regret leaves you thirsty and wanting something more.
Success smells like: Fresh linen, right out of the laundry, and freshly folded, and hot coffee brewing — but separately, one after another. The order doesn't matter though, either one. Like smelling your cup of coffee and then going to fold your laundry. Or going to sleep on a freshly clean pillow, and waking up to the smell of the coffee in the morning.
The worst smell is: New York streets in the height of summer, on garbage day. Like walking through it on the Lower East Side in August.
My ideal vacation smells like: A cozy room and freshly fallen snow, combined with pine and cedar. I might be a Debbie Downer, but I honestly hate the beach because I don't like sand. I'm from the Pacific Northwest; I like dirt, because it's solid and it doesn't pick up and get on everything else, you know? Sand gets everywhere. It's like glitter but not sparkly!
My home smells like: It smells sexy. You walk into my house and it's just like, sexual healing. It reminds me a lot of the fragrance [Cashmere Mist] if I'm being honest. It smells like lilies and sandalwood and cedar; it's fresh and pretty, but warm and bold, all at the same time. It's a sexy smell that's a mix of candles, oils, diffusers, flowers, and a fresh flow of air.
The last thing I smell before I go to bed, and the first thing I smell in the morning: The body lotion I put on my body before I go to sleep. It smells like coffee and toffee. It's some kind of random, organic, good-for-your-body type of brand; I have no idea what it is, but it smells delicious.
A scent or smell that I love that others usually don't: Gasoline. Yeah, I love the smell of gas. And rubber. Random stuff. I really like the smell of wet cement; people think I'm weird for that. Well, of course here in New York, I understand that, but back in my hometown, it's a nice smell.
I smell like: Blood, sweat, and tears. Just joking. I smell a lot like my house. It's hard to describe, but I think I also smell like confidence. I stink of confidence. And I also smell soft, sweet, and supple.
How I apply fragrance: I like to dab it on my wrist, meet that wrist with my other wrist, and then bring both wrists to my earlobes and rub my ears. Then, with just one of my wrists, I go from my ears to back of my neck to the front of my neck. And with my other wrist, I go from the front of my neck down to the center of my chest. Very specific.