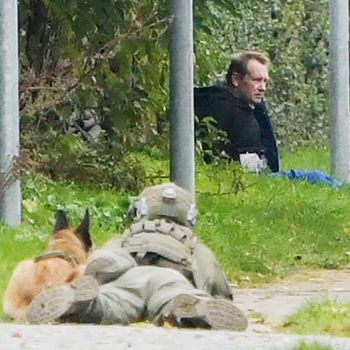 Peter Madsen's escape.
Photo: NILS MEILVANG/Ritzau Scanpix/AFP via Getty Images
Peter Madsen, the Danish inventor who was found guilty of killing and dismembering Swedish journalist Kim Wall aboard his homemade submarine three years ago, briefly escaped the Danish prison where he is being held for life.
According to the New York Times, Madsen took a female prison psychologist hostage on Tuesday and waved around what appeared to be a gun. Madsen reportedly used the woman as a human shield as he walked out of the prison gate.
"The weapon was so lifelike that prison guards at the gate didn't take any chances in relation to the hostage," Bo Yde Sorensen, the chairman of the prison workers union, told the Danish tabloid newspaper Ekstra Bladet. "It's a decision I support. We don't want to risk anybody getting killed — we have to find people afterward."
Madsen only made it about 430 yards from Herstedvester prison before he was caught. Pictures from the scene show Madsen sitting against a fence, surrounded by police cars, snipers, and dogs. It's unclear at what point Madsen released the psychologist.
Madsen was first arrested in August 2017, days after 30-year-old Kim Wall, a Swedish freelance journalist who had written for outlets like the New York Times, the Guardian, and The Atlantic, boarded his UC3 Nautilus submarine in Copenhagen for an interview. The UC3, which Madsen built himself, was believed to be one of the world's largest DIY submarines.
When Wall didn't return home that night, her boyfriend alerted the police. Madsen claimed he had spent three hours with Wall, and then returned her to Copenhagen harbor. The next day, the Danish Navy went out to search for Wall and found the submarine sinking. Police later said they believed Madsen had sunk the submarine on purpose to cover up his crime.
In the following weeks, parts of Wall's dismembered body began washing up on shore. A court found Madsen guilty of premeditated murder, the indecent handling of a corpse, and "sexual relations other than intercourse of a particularly dangerous nature." While Madsen has admitted to dismembering Wall's body, he denies killing her. He has claimed that she died of carbon monoxide poisoning and that, in a panic, he threw her body into the sea.
As the Times notes, a life sentence like Madsen's is unusual in Denmark, but the Wall case was a media sensation, and the trial was one of the most closely watched in Scandinavian history.
A new television series about the police investigation into Wall's killing, The Investigation, premiered in Denmark last month. The series does not focus on, or even mention, Madsen's name. Instead, it's centered on the police and emergency responders who looked into Kim Wall's death. Wall's parents worked with the filmmakers, in large part because of the exclusion of Madsen from the narrative, they told the Times. "We don't want to make a commercial for this guy," Wall's father said. "He's already cost us so much."