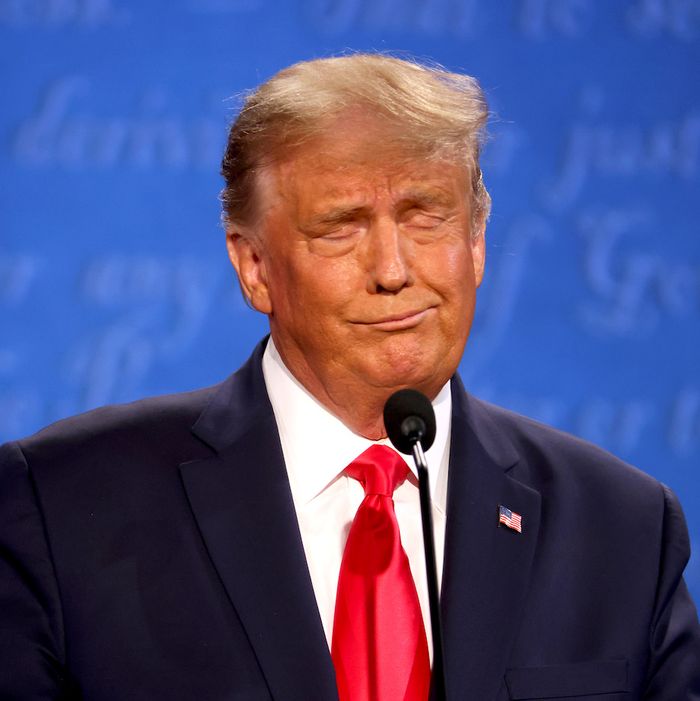 Lemme mute.
Photo: Justin Sullivan/Getty Images
Ahead of the final presidential debate of 2020, the Associated Press dangled a tantalizing detail: Roughly 200 people would be allowed inside the Nashville arena to watch President Donald Trump and Democratic nominee Joe Biden argue, live, on Thursday night. But only "one of those 200," the AP teased, "will be controlling a mute button."
That the Commission on Presidential Debates had implemented a mute button was not news. It was in fact necessary, to ensure each candidate an interrupted two minutes of response time at the top of each segment, and to avoid a repeat of the incoherent and belligerent first debate, which Trump spent bulldozing both the moderator and his opponent. On October 19, the commission announced that it would be cutting mics, but it did not say that an anonymous commission rep, supervised by the campaigns backstage, would be doing the muting.
But sadly, not much muting happened. Only one instance of muting, by my count.
To be fair, the muting was only meant to take place in the first four minutes of each topic, enough to allow each candidate a two-minute opening response. And at first, Trump seemed to be restraining himself — not in content, but at least in comportment. It was a lot of the same xenophobic rhetoric from the president, only delivered at a reasonable volume, giving a notably more confident Biden space to finish his sentences.
Initially, there was ostensibly little need to mute. You could see Trump swallowing his interruptions and attempting to soothe himself with tiny hand gestures; you could also see that the gestures simply were not doing it for him, and that the strain was building, that he was going to break. And indeed, fifty-six minutes in, order had flown out the window and the mute function had been used but once, when Trump ran over his allotted window in lying about health insurance. Still, it was a satisfying scene: "We are going to do an incredible job on health care, and —" his mouth kept moving but the sound went out, and long seconds passed before Trump noticed.
Unfortunately, the commission barred the mute button from use during open discussion, which seems ill-advised, when the mute button could have been deployed, fact-check-style, to keep misinformation off-air. Or it could have been thrown to us as a surprise, sanity-preserving treat! The president yelling about how Biden never really lived in Scranton? Or calling himself "the least racist person in the room"? A mute button certainly would have been nice then.
Let me hit it, thank you and goodnight.