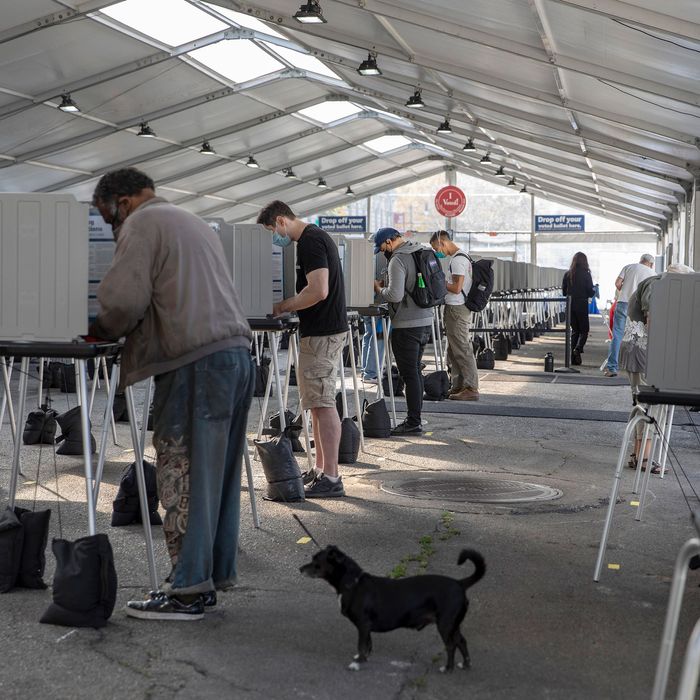 Photo: Liu Guanguan/China News Service via Getty Images
Mike Pence ended the vice-presidential debate on October 7 by refusing, like his boss, to promise to accept a peaceful transfer of power if Republicans lose the election in November. When asked directly, he evaded giving an answer, instead accusing Democrats of voter fraud. His chilling non-response comes on the heels of months of Donald Trump sowing doubt in the American democratic process. "We're going to have to see what happens," he said, when asked himself in September whether he would accept a loss.
More worrisome is that Trump's comments seem to be escalating, invoking his followers in ways that could be interpreted as sanctioning possible Election Day violence. Earlier in September, he retweeted a prediction that political unrest could lead to "rise of citizen militias around the country." During his own presidential debate, he declined to condemn white supremacists and ominously directed the Proud Boys to "stand down, and stand by." "I'm urging my supporters to go into the polls and watch very carefully because that's what has to happen," he said, raising the alarm that he is calling for possible voter intimidation. Tensions are so high, the AP reports, "FBI and local officials in several states have been conducting drills, running through worse-case scenarios, setting up command centers to improve coordination on reports of violence and voter intimidation, and issuing public warnings that any crime that threatens the sanctity of a Nov. 3 vote will not be tolerated."
This is all frightening and overwhelming. Here's one thing you can do to feel better prepared at the polls: train to be an Election Defender.
Organized by The Frontline — a new group sponsored by the Working Families Organization, the Working Families Party, and the Movement for Black Lives Electoral Justice Project — Election Defenders will "provide safe supports for voting (such as PPE and water), and election and voter defense, de-escalating right-wing intimidation tactics and signaling to a network of groups and lawyers if and where trouble breaks out." The Frontline is offering virtual, hour-and-a-half trainings ahead of November 3; you can sign up here. You can also text FRONTLINE to 30403 for updates on other actions ahead of the election.
How much better would you feel if you knew how to spot voter intimidation on your own trip to the polls, and what to do if you see it? "With the stakes being as high as they are," The Frontline says, "voter suppression already more rampant than ever, and the nationalist right emboldened by conspiracy theorists, we can't depend on anyone else ensuring people are able to vote freely and safely."