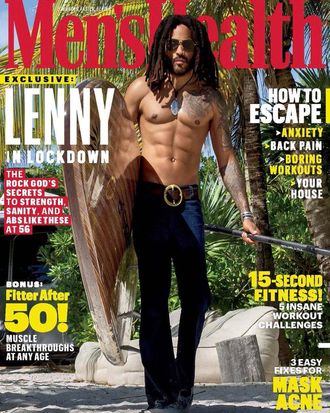 Back in August, a tweet by Lenny Kravitz went viral. It was a lovely black-and-white photo of him with Jason Momoa, his ex-wife's current husband, wishing Momoa a happy birthday.
Rachel Schneider retweeted the photo with the caption "if life is a game Lisa Bonet has already won," and it too went viral. And indeed, the sentiment could not be more true: Bonet's current husband, Momoa, is, as we've noted many times at the Cut, one of the only ones worth having. With his gigantic, treelike build and well-rounded character, he's the kind of guy who can throw an ax and bake a cake.
Meanwhile, her ex is Kravitz, a literal rock star who not only embodies a totally different variety of male hotness than Momoa but also apparently gets along with him wonderfully. We were reminded of all of this today when Kravitz covered Men's Health wearing only perfect abs and bell-bottoms (yes, on the beach, but somehow it works).
It's Men's Health, so a lot of the story is about Kravitz's workout routine, which involves weight lifting using a coconut tree as a bench and eating food mostly from his garden. But he also addressed Bonet and Momoa:
People can't believe how tight Jason and I are, or how tight I still am with Zoë's mom, how we all relate … You let love rule, right? I mean, obviously, after a breakup, it's work — it takes some work and time, healing and reflection, et cetera. But as far as Jason and I? Literally the moment we met, we were like, 'Oh, yeah. I love this dude.'
Incredible. I'd just like to take this opportunity to say: Congratulations, Lisa Bonet, for your impeccable taste in men.