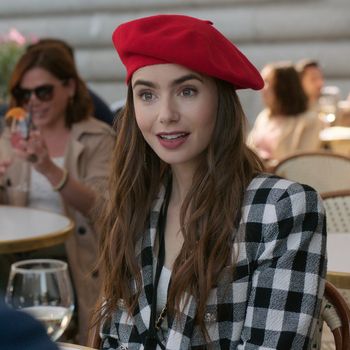 Photo: COURTESY OF NETFLIX
Is it just me, or has television been a bit of a slog lately? Maybe I'm not watching the right stuff, but the algorithms keep offering me these boozy teen dramas and plotless, high-budget fantasies. No one wants that right now! I'm looking for something a little silly, a little sexy, with a bit of garden-variety drama, a.k.a. all of the things I'm missing in my life right now. And my God, does Emily In Paris — out on Netflix today — scratch that itch.
Emily In Paris is like Sex and the City if Carrie Bradshaw got the fantasy expat life she deserved. It follows Emily (Lily Collins), a marketing specialist from Chicago, who moves to Paris to provide the French firm her company recently acquired with "an American perspective." She arrives at the firm, Savoir, in an Eiffel Tower–themed blouse and booties printed with "Paris" and airmail stickers, and that's all you really need to know. She can't speak a lick of French, and her midwestern warmth and bubbly corporate energy immediately clash with her black-wearing, cigarette-smoking boss, Sylvie (Philippine Leroy-Beaulieu). Sylvie hates her on sight — her vibe is Miranda Priestly, but make it French and cut the blouses lower — and she vows to make Emily's time at Savoir miserable.
Speaking of blouses, the fashion in this show is gorgeous and ridiculous: Emily's wardrobe is a joyous, candy-colored runway of tulle and miniskirts, belts and berets; Sylvie wears only black and sex hair; and Camille (Camille Razat), Emily's French contemporary, exemplifies a Phoebe Philo–era Celine chicness. It's the work of the legendary Patricia Field (who was actually nominated for an Oscar for her costuming on the Devil Wears Prada), and her fingerprints are all over it: Everyone seems to have an endless collection of Chanel, and they're always wearing heels, even when making their cobblestoned commute to work. (This is maddening but appropriate for a show where the main character goes jogging in an eyelet blouse.)
Emily seems to be the only feminist around, and it being the city of love, her prudish behavior is irritating at first, but that's probably because I would die to hook up with a random French stranger. That said, it's nice to see her shut down unwelcome and inappropriate advances, whereas an earlier version of Emily in Paris might have seen her drooling over a gift of lingerie from an older male client. In spite of this, I can't begin to describe how satisfying it is to watch her fall for her downstairs neighbor, a sexy French chef named Gabriel, played by a disgustingly hot Lucas Bravo.
So if you want to be delighted, if you want to feel the way you did the first time you watched The Lizzie McGuire movie when she toured Rome on a moped with the Italian hottie, crack open a bottle of Sancerre and check out Emily In Paris. Fair warning: It will make you want to drink wine at 11 a.m., eat a chocolate croissant, and make out against a tree in public, but some of those are manageable from your couch.