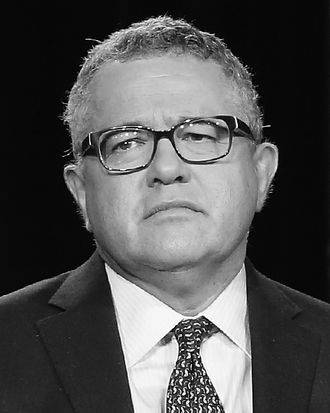 Jeffrey Toobin
Photo: Frederick M. Brown/Getty Images
Um, well, I do not know how to break this news delicately to you, or if a gentle approach would even appeal to your news-hardened brain, so here it is: The New Yorker has suspended staff writer Jeffrey Toobin after an unfortunate and mysterious Zoom Dick Incident (henceforth the ZDI). According to Motherboard, Toobin exposed himself to various New Yorker colleagues and WNYC employees during a video call last week. Hours later, Motherboard updated its reporting with input from two people who were on the call, who said Toobin had been masturbating.
In response to the original Motherboard report, Toobin maintained he only got his penis out on accident. "I believed I was not visible on Zoom. I thought no one on the Zoom call could see me. I thought I had muted the Zoom video call."
The New Yorker said it had suspended Toobin pending investigation. According to Motherboard, his Condé Nast email has been disabled and his Twitter has been dark since October 13. Save for a CNN appearance on Saturday, things on the Toobin front seemed quiet. For a little while. But in the absence of official confirmation, rumors — chiefly, that Toobin had touched himself during a work call — began to swirl.
So what really happened? Initially, Toobin's industry filled the ZDI information void with all kinds of possibilities. "Zoom Dick" trended on Twitter. And now Motherboard has updated its report.
Two people who allegedly participated in the call spoke to the website on condition of anonymity and claimed Toobin was masturbating during a break in a bit of radio theater. (For reference, WNYC Studios produces The New Yorker Radio Hour.) The participants described the call as an almost Model U.N.–style simulation of our political landscape, played out by "many of The New Yorker's biggest stars," including Toobin. Emphasis mine:
Jane Mayer was playing establishment Republicans; Evan Osnos was Joe Biden, Jelani Cobb was establishment Democrats, Masha Gessen played Donald Trump, Andrew Marantz was the far right, Sue Halpern was left wing democrats, Dexter Filkins was the military, and Jeffrey Toobin playing the courts. There were also a handful of other producers on the call from the New Yorker and WNYC.




Both people, who spoke on the condition of anonymity in order to speak freely, noted that it was unclear how much each individual person on the call saw, but both of the people we spoke to said that they saw Toobin jerking off. The two sources described a juncture in the election simulation when there was a strategy session, and the Democrats and Republicans went into their respective break out rooms for about 10 minutes. At this point, they said, it seemed like Toobin was on a second video call. The sources said that when the groups returned from their break out rooms, Toobin lowered the camera. The people on the call said they could see Toobin touching his penis. Toobin then left the call. Moments later, he called back in, seemingly unaware of what his colleagues had been able to see, and the simulation continued.
According to reporter Laura Wagner, who wrote Motherboard's article, New Yorker editor David Remnick sent a message to staff assuring them "that we take such matters seriously and that we are looking into it."
Talk of the town, indeed.
This article has been updated with new information.