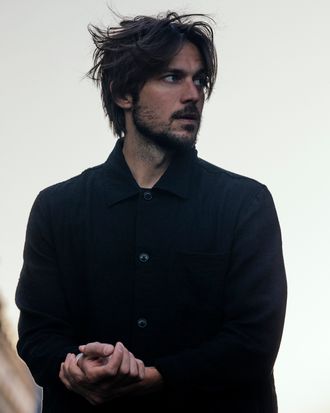 Netflix's latest bubbly comedy, Emily in Paris, is about an American woman who moves to Paris for her dream job. Its appeal has less to do with Paris realism (Emily goes to work at her new job, for example, without knowing the tiniest bit of French) than with Patricia Field's costumes, Lily Collins's eyebrows, Ashley Park's incredible voice, and the sheer thrill of a throwback to when you could travel and meet strangers in bars. Altogether, it's a Champagne cocktail that goes down very easy.
A crucial ingredient is Lucas Bravo, who plays Gabriel, a young chef and Emily's beyond-hot downstairs neighbor. The 32-year-old actor spoke with the Cut about his new BFF Ashley Park, his love of Sex and the City (whose creator, Darren Star, is also behind Emily in Paris), and assigned us some homework.
What's your quarantine been like? 
After the show [wrapped earlier this year], I went to New York to see Ashley [Park, his Emily in Paris co-star], and I had this wonderful tour of everything. We went to see Harry Potter, Hamilton, Mean Girls. So I was exhausted, and I came home and I was like, I need a break. But I had no idea what was going to happen. Starting February 1, I just took some time for myself. And when I was ready to go out, they announced that we were supposed to stay home.
How did you get involved in Emily in Paris? It's such a delightful show. I watched it all in one day.
It's pretty easy to binge right? My agent sent me two episodes in July last year. I saw Darren, I saw Lily, Patricia Field — I saw pretty much everything that's in it. I needed to audition, so I got an audition and it went pretty well. So they called me back again, and it didn't go well at all because Darren was there that time. And, you know, he's the nicest person — I was anxious to meet him, but he was just so nice. His energy in the room was amazing. I didn't know how to find the energy in the scene. It went terrible.
I remember going to bed and just visualizing, Darren, please, I wasn't in the best conditions for this. Please give me a second chance. Then he called in the morning saying, "You'll be doing the same audition again with an actress." Basically, then I was told a week before we started production — and that was it.
Are you a Sex and the City person?
I'm glad that now I can wear it on my sleeves and tell the world that I'm a fan of Sex and the City. When I was younger and I was binge-watching it, all my guy friends were like, "Why are you watching this? You shouldn't be watching." And I would tell them, "You know, there's so much information. You should educate yourself." I even took the Sex and the City tour when I went to New York.
I have to know, what character from Sex and the City character are you then? 
I think I'm more of an Aidan than a Samantha or a Miranda. I'm a woodworker.
You're just a humble woodworker with a beautiful dog and a beautiful apartment.
Yes. And a little belly. [Laughs.]
You and Lily have such great chemistry — what was it like filming and working with her?
It's really nice to hear that because you feel it on set, but you never really know if it follows to the screen. Lily's so generous. All you have to do — if you have enough preparation and you know your character's story — is navigate any emotion that Lily is going to send you. And when you're in front of Emily and with those big eyes, you're like, Wow, all I have to do is react.
Did the whole cast become close while shooting? 
We became best friends. Ashley is the main element in the fact that we're really close. I met her on day two, and I think she thought I was a prop guy hanging by the trailer. She had an apartment next to mine. We barely have scenes together, but we became inseparable.
Did you get to work directly with Patricia Field? I keep thinking about the green jacket that you're wearing in the very last episode. 
There's been a discussion about this jacket. Patricia's just in her own galaxy. I love her. She's just so colorful and happy and alive. There's this big warehouse with clothes everywhere. And she's like, "Okay, so now just pick what you like and we'll arrange it."
I feel like everybody is going to be thirsting after you when this comes out. Are you prepared for that? 
I've heard that before, but I'm very uncomfortable with this. I just hope people are going to be moved and touched by the show.
What are some books and bands that you love? 
I love Jungle. I'm just obsessed with this band. I saw them probably six or seven times.
And I would say my favorite book is called The Ice People in English, which is not really a good translation. It's La Nuit des Temps in French. It's a beautiful story about an expedition in the Antarctic, and they find a golden sphere underneath the ice with a frozen couple. Just read it and tell me about it. Now you have homework after this.