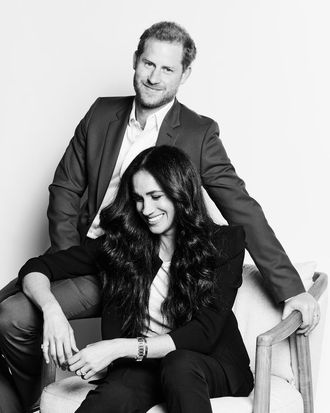 Meghan and Harry have released a new official portrait, their first since stepping down as senior members of the royal family this January. The photo, which was taken ahead of a Time 100 virtual talk the couple is hosting on Tuesday, echoes one they took in 2017 to celebrate their engagement.
Many outlets have pointed out that in both photos, Meghan is sitting with one arm resting on Harry's lap — a great pose, but also really the only thing the photos have in common.
Indeed, the images are, in every other respect, starkly different: The main divergence being that in the new photo the two of them look much happier and freer, more like regular humans than flawless automatons.
This is not to say that their engagement photos weren't totally dreamy. Of course they were: Taken on the steps of Frogmore House, Meghan was bedecked in Ralph & Russo couture, while Harry, in a blue suit, leveled a come-hither expression at the camera. No, they were stunning. But — much like the royal family — the effect was a bit packaged and unnatural. And stuffy. Basically everything the couple has shown themselves not to be over the past few years.
This new photo is a totally different vibe, and that vibe is chilled the fuck out. Taken in what I presume is their new home in Santa Barbara, the photo is black and white and looks more like the landing page for a husband-wife LLC. Let me start with Harry, staring straight at the camera with a cheeky grin — no tie, first button undone, looking like he just finished a three-hour yoga session on the beach. And then there's Meghan, wearing a power suit, leaning on Harry as if he's simply a part of the exposed wood chair she's perched on.
They're smiling, not smizing; relaxing into each other, rather than posing around each other. And while I'm no body-language expert, if a picture is worth a thousand words, then this one certainly speaks volumes.