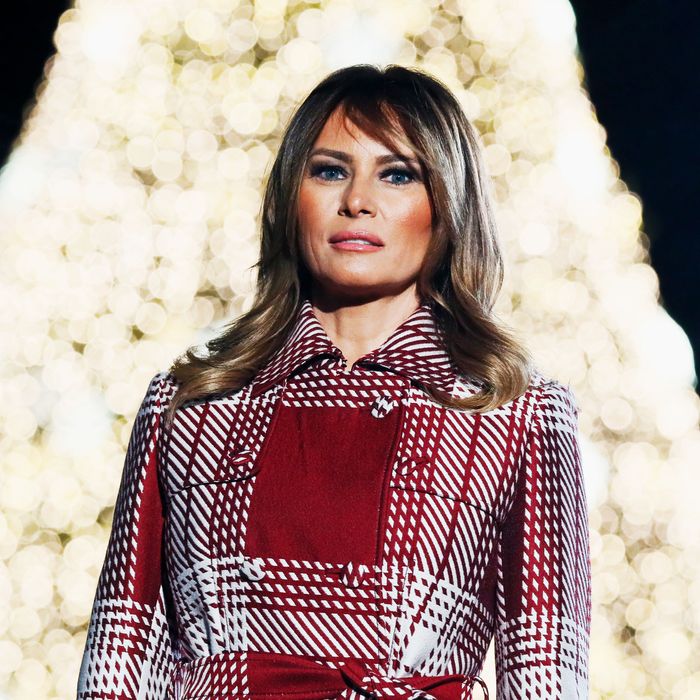 Photo: Paul Morigi/Getty Images
The news tides have turned toward Trump and the First Lady's coronavirus diagnoses, and the growing number of other White House staffers and Senate members who have tested positive, too. But let's return for a moment the story we might've been talking about today: Melania Trump caught on tape hating Christmas. The recordings were released by her former senior adviser on CNN last night:
In one tape recorded in July 2018, Melania complains about how her public image has faltered in the eyes of the American people because of her proximity to her husband. That said, she mostly seems pissed that she has to throw the White House's annual Christmas Party, which is honestly fair:
"…They say I'm complicit. I'm the same like him, I support him. I don't say enough. I don't do enough. I'm working my ass off on Christmas stuff … Who gives a fuck about Christmas stuff and decorations?"
And indeed, who gives a fuck about Christmas stuff? The call came ahead of yet another tortured White House Christmas display (the ultimate aesthetic was a hall of creepy, blood-red trees). It followed Melania's 2017 Christmas display, which looked like Frozen on Broadway.
Amid her anti-Christmas rant, Melania also touches on her infamous trip to the southern border during that summer's migrant-family separation crisis. As you may recall, she took the visit as an occasion to wear a Zara jacket with the words "I Really Don't Care, Do U?" written on the back. At the time, many speculated that her insensitive outfit choice was in fact a pointed message to reporters and liberals — and it seems like their suspicions were probably correct.
"I say that I'm working on Christmas planning for the Christmas, and they said, 'Oh, what about the children?' That they were separated. Give me a fucking break. Were they were saying anything when Obama did that?"
The tapes were secretly recorded by Stephanie Winston Wolkoff, who just published a tell-all book, Melania and Me, about her time working for the First Lady. Winston Wolkoff left the Trump administration in early 2018, after it was revealed that her firm had received $26 million to help plan the president's inauguration. The First Lady's chief of staff, Stephanie Grisham, has accused Winston Wolkoff of releasing the recordings to increase sales of her book.
Anyways, finally — evidence that Melania is a certified grinch.