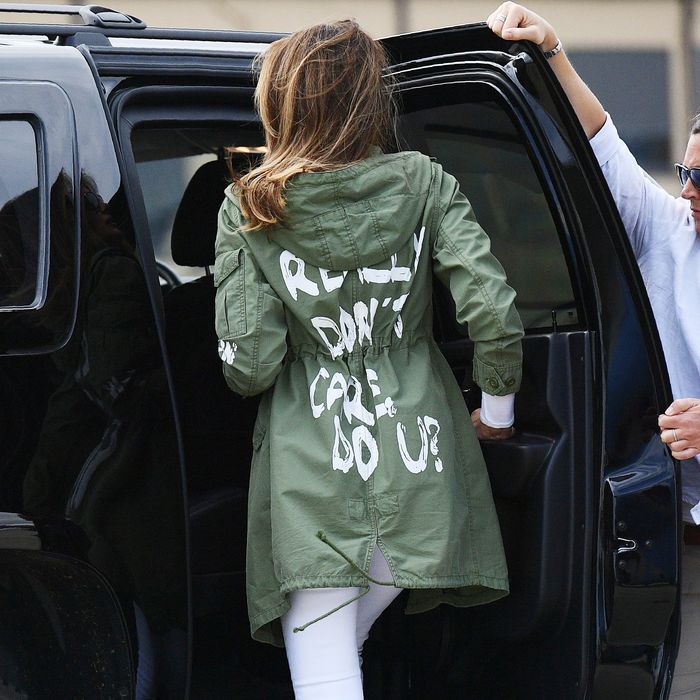 Photo: MANDEL NGAN/AFP via Getty Images
When Melania Trump wore her infamous "I REALLY DON'T CARE, DO U?" Zara jacket to visit detained immigrant children at the border in 2018, it provoked a lot of questions. Or rather, one big question, asked repeatedly: Why?
First, her spokeswoman insisted that there was "no hidden message" — it was just an ugly jacket (that might have been a ripoff of an equally ugly designer one). Then, Donald Trump decided to spin the text as a dig at the media. Melania later echoed this view in an interview with ABC News. "It was for the people and the left-wing media that were criticizing me," she said. "And I want to show them that I don't care." There was also a theory, posed by CNN White House correspondent Kate Bennett, that the jacket was a "facetious jab at Ivanka."
Last night, Melania's former senior adviser, Stephanie Winston Wolkoff, offered her own take. It was a "publicity stunt," she told Anderson Cooper, meant to "garner the attention of the press" and "make sure that everyone was aware that Melania was going to the border."
In conjunction with her new tell-all book, Melania and Me, Winston Wolkoff has also released audio recordings that she secretly took during her phone calls with the First Lady. "I'm driving liberals crazy, that's for sure," Melania can be heard saying when Winston Wolkoff asks her what prompted her to buy the jacket.
Winston Wolkoff explained to Cooper that there's no synergy at the White House when it comes to deciding what Melania's messaging is, and that ultimately, she's just "going to do what [she] wants to do." She added, "She does not care what anyone tells her, and she's very, very honest about that."