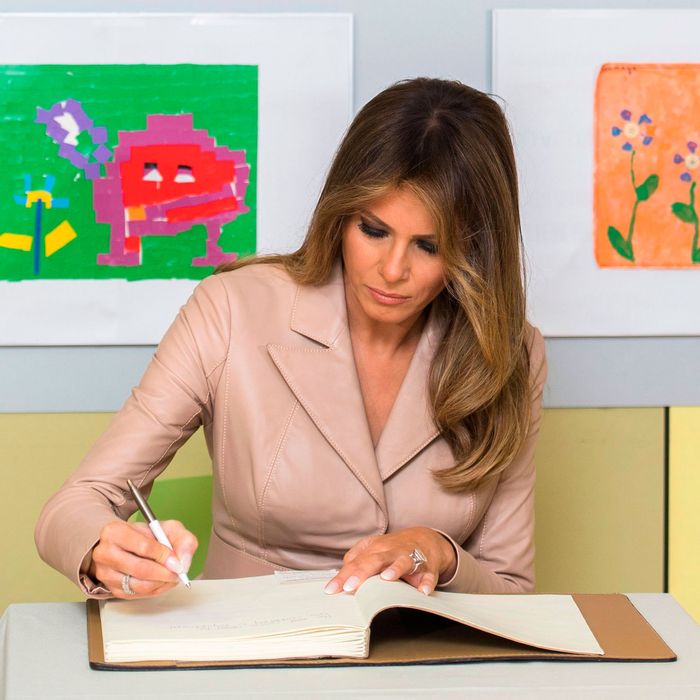 U.S. First Lady Melania Trump signs a guest book as she visits the Queen Fabiola children's hospital, on the sidelines of the NATO summit, on May 25, 2017, in Brussels.
Photo: Laurie Dieffembacq/BELGA/AFP via Getty Images
Never one to shy away from a new venture, Melania Trump seems to have recently turned to the cult of the personal essay. In her latest installment — published on her blog of choice, Whitehouse.gov — the First Lady has taken up the subject on many of our minds during this time of pandemic, economic crisis, and widespread natural disaster: pettiness.
Though she does not say so in the post, it's clearly directed at Stephanie Winston Wolkoff, Trump's ex-friend and former adviser, though it also calls out the media for repeating her "salacious claims" and "focus[ing] their coverage on pettiness."
Wolkoff recently published a tell-all book, Melania and Me, about her time working for the First Lady. She also made public recordings of her conversations with her ex-boss. In one highly circulated tape, Trump ranted about Christmas ("Who gives a fuck about Christmas stuff and decorations?") and expressed annoyance about being asked to answer for her husband's cruel family-separation policy at the border ("Give me a fucking break").
Wolkoff is never directly mentioned in the essay, but the subtweet is obvious — Trump refers to "a former contractor" "who said she 'made me' even though she hardly knew me, and someone who clung to me after my husband won the Presidency." Throughout the piece, she implies that Wolkoff's book, and the subsequent media coverage of it, is somehow harmful to children, as it distracts from Trump's own "positive work."
"Her 'memoir' included blaming me for her ailing health from an accident she had long ago, and for bad news coverage that she brought upon herself and others. Never once looking within at her own dishonest behavior and all in an attempt to be relevant," reads one particularly Bravo-esque section. "These kinds of people only care about their personal agenda — not about helping others."
The essay follows one written by Trump last week, in which she described her experience with COVID-19 and named "a balanced diet, fresh air, and vitamins," as well as "compassion and humility," as key to her recovery from the disease that has killed over 1 million people worldwide.
Wonder what she will tackle in her next post.