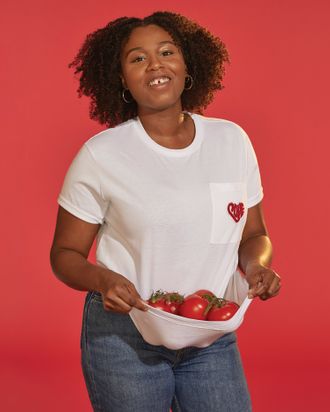 Photo: Courtesy of Michael Kors
Every year, Michael Kors partners with the World Food Programme (WFP) on its Watch Hunger Stop campaign, but this time around, the brand is doing things a little differently. Typically, the campaign is headed by major celebrities like Kate Hudson, Halle Berry, and Lupita Nyong'o. However, this year, it is being led by Michael Kors's employees themselves.
"This year's Watch Hunger Stop campaign features our employees, who are as generous as they are talented," said Kors in a statement. "In a time when we've all been thinking about community and the future, this group gives me hope."
Titled "Food Is Love, Share Your Heart," the fall 2020 capsule collection includes a unisex, 100 percent cotton, white pocket T-shirt and a denim tote bag made from 25 percent Repreve recycled polyester. Both products feature a heart logo with the word love embroidered inside.
For every "LOVE" T-shirt or tote sold, Michael Kors will donate all profits to children in need through the World Food Programme. The brand has also created an Instagram filter called "Share Your Heart." For each person who shares using this filter, Michael Kors will donate another 50 meals to WFP. Similarly, for each post from supporters sporting their tote or T-shirt, 50 meals will be donated to WFP.
Below, items from the "Food Is Love, Share Your Heart" collection.
Photo: Courtesy of Michael Kors
Photo: Courtesy of Michael Kors