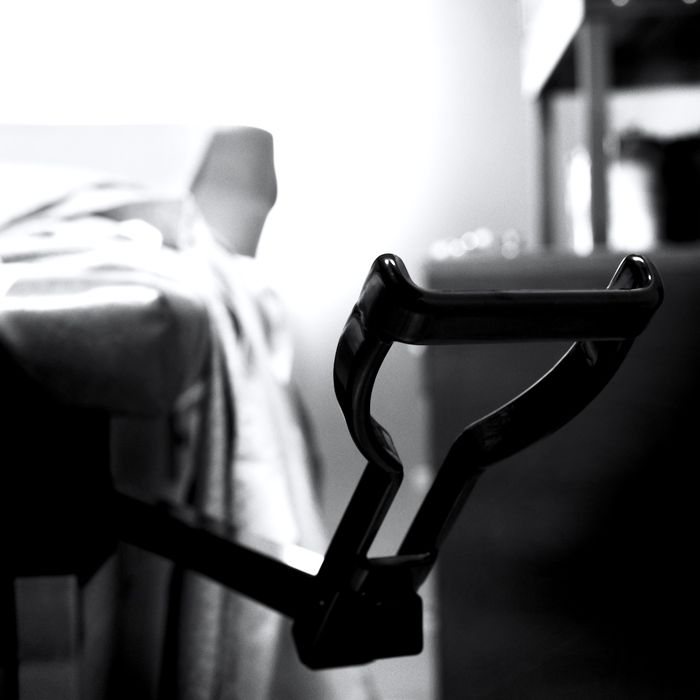 Photo: Janis Christie/Getty Images
At least 57 women in a Georgia ICE detention center say they were forced or pressured into having gynecological procedures, according to a group of immigration lawyers, doctors and previously detained women who met with senators on Monday (this number is almost three times higher than previous estimates.) They presented the politicians with more than 60 pages of documentation, according to the Intercept, in which mostly Black and Latina immigrants allege that Dr. Mahendra Amin, the primary gynecologist at the Irwin County Detention Center (ICDC) in Georgia, coerced them into having "overly aggressive" or "medically unnecessary" surgeries — in most cases without their consent.
In findings from a recent report published in the Los Angeles Times, some women say they were threatened with retaliation if they pushed back on recommended procedures, even in cases where their original complaints were non-gynecological. They describe a pattern of awaking from surgeries to discover their fertility was compromised or they were unable to have kids.
One woman, who the Times identified as Amanda, said she woke up from a surgery chained to a hospital bed. Amin had given her a dilation and curettage — a surgery to scrape tissue from her uterus — without her consent. Before she was sedated she says Amin had told her he was draining an ovarian cyst, and that if she refused care it would affect her access to future medical treatment.
Shereace, a 34-year-old Jamaican woman who requested the Times use only her first name, said she went to see Amin because she was having abnormal Pap smears. After the procedure, the doctor said her tubes were "damaged and no good, and he let me know I'm never going to be able to have kids," according to the Times. She was crushed and still doesn't know what he did to her.
A third woman, 48-year-old Wendy Dowe, said she was surprised to see her stomach bandaged up after having surgery, and had to write to the medical office to ask what kind of procedure she was subjected to. At a later appointment she told the Times that Amin and other medical staff tried to pressure her into getting a hysterectomy by asking how many kids she had. "They treat you like you're not human," Dowe said. She and Shereace have since been deported to Jamaica after spending decades in the U.S.
"The fact that Black and brown immigrant women are held in an extremely vulnerable position at this prison where they have no control over their bodies and no say about what is done to them is sickening," Azadeh Shahshahani, the legal and advocacy director for Project South, told the Cut. "Irwin should be shut down immediately and people should be freed."
ICE told the Times it cannot comment due to an ongoing investigation by the Department of Homeland Security inspector general. In a previous comment to the Cut, Amin's lawyer denied the allegations and said his client is "a highly respected physician who has dedicated his adult life to treating a high-risk, underserved population in rural Georgia."
The new report, which was written by nine OB/GYNs and two nursing experts, builds on a whistleblower complaint Project South released in September, in which a former ICDC nurse details the same pattern of medical abuse. Nurse Dawn Wooten called Amin a "uterus collector" because many women had told her about being forced into having their uteruses or Fallopian tubes removed without proper explanation. (In the complaint, one immigrant called the situation "an experimental concentration camp. It was like they're experimenting with our bodies.") The lawyer for a woman held in ICDC told the Cut that her client, Pauline Binam, woke up from a procedure to find out that Amin had removed one of her Fallopian tubes and told her she was now likely infertile.
"I almost don't have words for just how painful this was for her," said Vân Huynh, Binam's attorney, in a previous statement. "She broke down, and I think she still has breakdowns now and then thinking about what happened."
The medical access at ICE facilities, which are mostly run by for-profit prison companies, is notoriously subar — women have complained in the past that they have been denied proper treatment for cancer, brain tumors, and breast cysts. In September, Ken Cuccinelli, Homeland Security's deputy secretary, said the allegations against Amin were so far unsubstantiated, but the whistleblower report has spurred the inspector general's office and Congress to investigate medical treatment at the facility.
"The United States government, as well as the private prison corporation running this prison, should be held accountable," said Shahshahani.