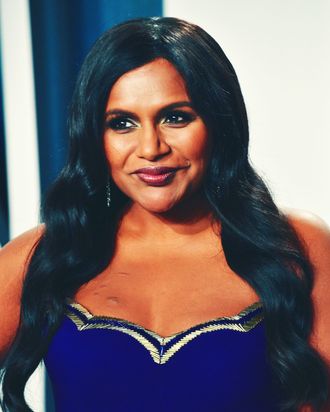 Mindy Kaling, very discreet.
Photo: George Pimentel/Getty Images
Once again, it's that time; the time it always seems to be these days; time to welcome more celebrity spawn. Because Mindy Kaling had a baby! And not just any baby — a secret baby.
Kaling spilled the beans during an appearance on The Late Show with Stephen Colbert last night. "I'm telling it for the first time now, it feels so strange, but I gave birth to a baby boy on September 3," she said. September 3! A full month ago! Remarkable, because as Colbert pointed out, "Nobody even knew you were pregnant!"
Kaling is aware of that fact, of course. She explained to Colbert that "it felt strange to go out of [her] way to shine a light on some giant health information" with "so much heartbreak in the world." According to E! sources, the coronavirus quarantine made it easy for her to keep the bump concealed, as she conducts all her business on Zoom now. "She had originally planned to reveal the pregnancy at the Met Gala, but that obviously didn't happen. Because she was in the early months of pregnancy when she went to the Oscars, nobody knew or could tell," the source said. This is not Kaling's first secret baby rodeo: The actor and author gave birth to her her 2-year-old daughter Katherine in 2017 and managed to keep a lid on her pregnancy for five months, until Oprah let it slip to People.
Anyway, the good news is that Katherine appears to have overcome her initial skepticism and accepted her new brother, whose name is Spencer. "She was very ambivalent at first, to be generous," Kaling told Colbert. "She was really worried about her toys getting taken. And so, that happened and I think in her mind, because she's 2 and a half, almost 3, she thought that it would be another child that was her same size. She was delighted when he arrived home with me from the hospital and he was just a blob who couldn't take her toys. She's a huge fan now that she's met him."
Hm, yes, well, who doesn't love a secret celebrity baby.