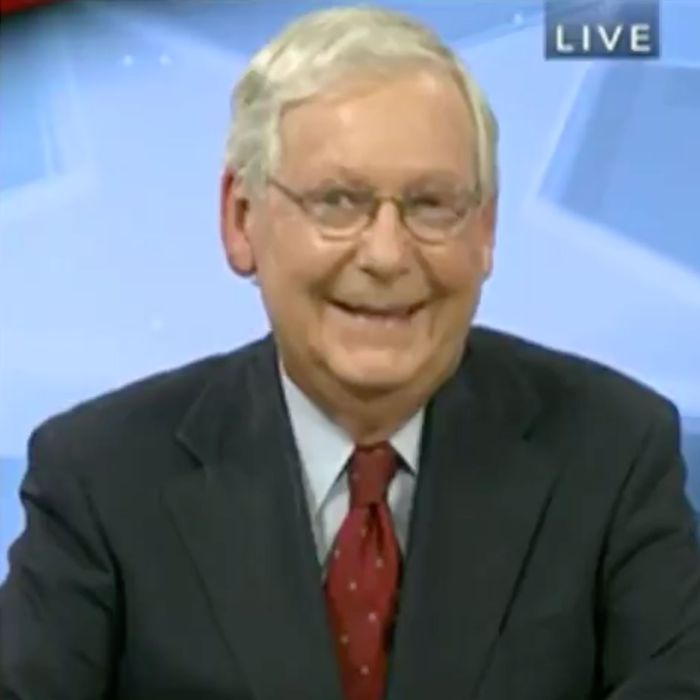 On top of all the other problems we as a society are currently dealing with, a mechanical skeleton from a haunted house, or perhaps my neighbor's very elaborate front-yard Halloween-decoration display, has escaped its tethers to wreak havoc on our mortal souls. Apparently he amassed enough power to become Senate Majority Leader of the United States of America and is doing some real damage.
The reanimated Sith Lord puppet came under criticism this week after a clip from a debate he had on Monday with Amy McGrath, the Democrat running to unseat him in Kentucky, went viral. In the clip, McConnell is asked about the Senate's failure to pass a second relief bill for the millions of people suffering medical, psychological, and economic hardship due to the coronavirus pandemic. McConnell reacted by blaming Democrats — he is a Republican ghoul and that is the party line — to which McGrath said, "The House passed a bill in May, and the Senate went on vacation."
Then, in response, the marionette you keep in your basement because it's too cursed to throw away unleashed a laugh so spineless and gutless and … lipless … that it defies easy description. That he would laugh so wimpishly in the face of such tragedy, in the face of death and destruction he and his party have abetted every step of the way — from spreading conspiracy theories about mask-wearing to making the dismantling of public health care his cornerstone political accomplishment — well, it certainly invited comparisons to malevolent supernatural beings.
It seems he was trying to do that thing where a politician laughs cannily at their opponent to emphasize how cool and fun and over it they are. But attempting to laugh off his failure to act, with well over 200,000 Americans dead of coronavirus, millions of permanent job losses, and a third wave underway, just comes off as quite scary. It was the Chuckie of chuckles, the Grin Reaper himself. Don't look directly at it.