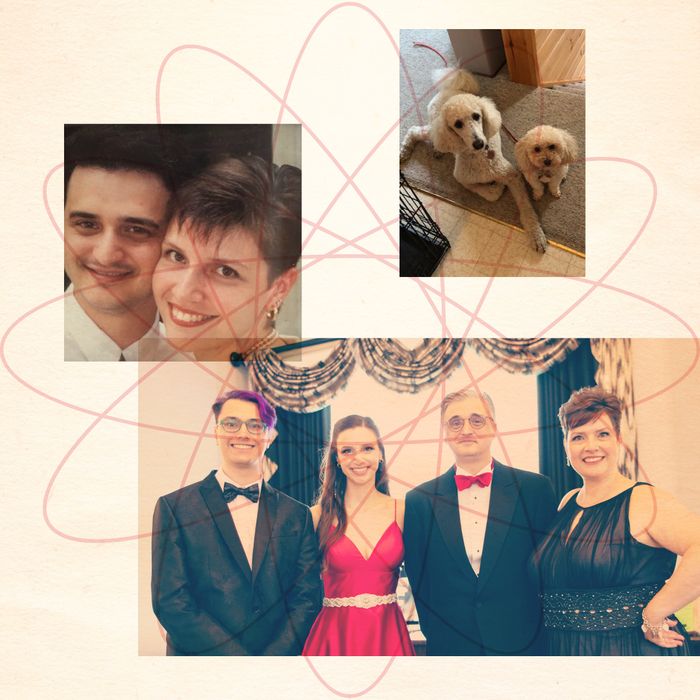 Photo-Illustration: by the Cut; Photos courtesy the author.
All in the Family is a series on kith and kin during a year like no other.
My husband and I imagined a lot for our retirement. We pictured hiking on rail trails and having time on our hands for writing, reading books, planting our garden, and unpacking our new home, unhurried. We researched indoor renovations and collected paint chips. We joined the local food co-op. I joined the book club at the library. No more 5:15 a.m. alarm, no more having to be asleep before 9:30 pm at the latest. We imagined lingering over homemade meals and lingering over each other, too. In our dreams about our second honeymoon, it was mostly just the two of us.
When my husband and I retired from teaching public school in December, our two kids were away at college, and we moved from New Jersey to a love nest in the Catskills. But soon after we started settling into our new life, our kids were back, jettisoned from campus by the pandemic.
Our full nest put our intimate life on hold, indefinitely. I'd once hoped retirement might involve being chased — it turned out I was chaste instead. With orders to remain homebound and much to do — we were still unpacking boxes from our move, plus the cleaning tasks, cooking meals, family TV time, and the kids' general presence — sleep arrived before any hint of hanky-panky. We knew how lucky we were, but we still mourned what was supposed to be our romantic reprise.
Our adored offspring were 19 and 22, pursuing college majors that kept them indoors much of the time: violin performance studies and website design, respectively. Our daughter finished her spring term on Zoom, practiced her violin, and listened to loud music in her bedroom. She was often in and out of the kitchen to get snacks, or hanging out in the living room. We were so proud of her, yet her presence chipped away at any quiet or private time. Our son coded, refined his website, designed apparel using artificial intelligence, talked to us about his technology passions, and took a summer course in statistics all day. We were impressed with him, too, but that didn't stop us from feeling crowded.
But there were only so many long walks the kids could take with our beloved dogs, Pupcake and Pompom, and, once the spring weather bloomed, only so many 20-minute bike rides. Whenever I suggested they leave the house, I tried hard to keep my tone casual to preserve my cover. If I was successful, and they actually left, I'd laugh at myself while peeking out the window until their two-legged and four-legged forms disappeared down the road. But then the timer in my head would tick me into action: double-check the windows, close the shades, pull on a nice, naughty nightie, and jump into the marital bed (talk about quickies!). When the kids returned, I'd pretend to have taken a "late-morning shower" to explain why I was still in my robe.
Our son, who was diagnosed with autism two decades ago, doesn't drive, which meant one of us drove him to town for masked beer runs or curbside grocery pickups. He stayed up late, chatting online about gaming; we tried in vain to stay up later than him (yeah, right). Also a night owl, our daughter could be depended on to be in the living room FaceTiming with friends — just chatting, commiserating, catching up — into the wee hours. It became an inside joke: "Oh honey, look on the bright side: We no longer need birth control." Wink, wink. (My wonderful husband had a vasectomy 15 years ago and I am perimenopausal.) Like always, humor helped us cope.
We did manage to find one romantic outlet: car rides through the countryside. While no Zoom yoga class could make me flexible enough to consider intimacy in the car, our drives offered us something else. They reminded us of our earliest sparks, of dating soon after we met.
A Brooklyn boy, my future husband learned how to drive (standard transmission) because I taught him in the early '90s. When we met, we were both coming off broken hearts. Still, we bonded immediately at dinner with friends at the Yellow Rose of Cafe on Amsterdam and 81st Street. We were commitment-minded people, and as our pals slipped into a margarita-fueled haze, we remained focused on each other. My husband recently got a yellow rosebush for our garden, a touching tribute to that night.
Less than two years after that fun first dinner, we married in March 1994. Together, we survived a lightning strike to our home that knocked my husband to the floor. We watched the events of 9/11 unfold from our window, looking on in horror as the second plane hit. We traveled internationally. We celebrated my parents' 80th and 85th birthdays. We celebrated our own 26th anniversary on March 12, 2020, the night before Governor Cuomo ordered a lockdown in New York. Our love story continued, but, surrounded by our children in quarantine, there was definitely something missing.
I believed that a sensual rendezvous could help ease the stress of the pandemic. But there was a hamster-wheel conundrum: If I was anxious, I couldn't mentally relax enough for the intimacy that would help me relax — even if the kids were, blessedly, out of the house. So many people worldwide were suffering, and we were grateful every day for the time we had together as a family. I was happy to be able to hug my kids during the crisis, but I missed my husband — who was right here beside me.
These days, more than half a year after our family quarantine began, our nest is no longer full. As the touch-and-go school year began in our area for kids of all ages, our daughter moved into an apartment and started her fall semester remotely. We got word that the COVID-19 precautions for our son's apartment complex, where he can be supported yet independent, were lifted sufficiently for us to move him back in. This new stage with our son will involve less nagging, more socializing and celebrating, and more discussions of things we can enjoy as a family.
In the end, that is how we got through the period of our nest (and style) feeling so cramped: as a family. Like so many times before, our marriage weathered the unexpected and the resulting compromises on our intimacy. Now, we can spend time together, just the two of us, in love and languor once more — and we're more than ready to chase each other toward the bedroom.