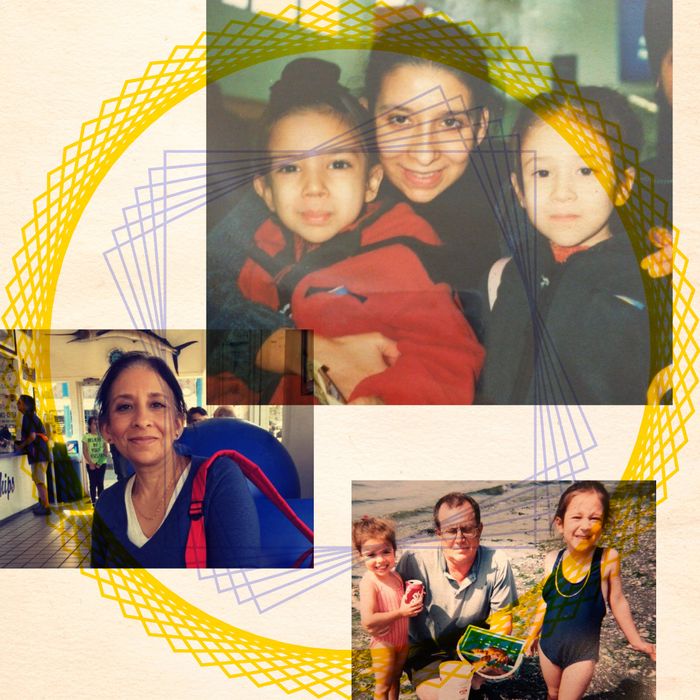 Photo-Illustration: by the Cut; Photos courtesy the author.
All in the Family is a series on kith and kin during a year like no other.
Maybe if you have a parent in medicine you know what it's like: don't touch your face, don't touch your phone, and the constant, maddening refrain: did you wash your hands? did you wash your hands? did you wash your hands?
As a teenager, this drove me nuts. Of course it did! I was disgusting and nothing could kill me, handwashing be damned. Naturally, as I grew older and realized that plenty of things could kill me, I came to appreciate her cleanliness standards. Not everyone knew coughing etiquette and basic wound care, I realized, or how to tell when something is infected.
This year, more than ever, I've been deeply grateful for my mom's vigilance, an attitude I'd written off as nagging in the past. And in the atmosphere of a pandemic, she was exactly what I needed: calm, helpful, and most of all hopeful.
This is in spite of the fact that she's been on the frontlines the whole time. While I was safe and sound, writing from my apartment in New York, she was in my hometown just outside Seattle, working as the lead nurse at a school that remained open throughout the pandemic as a day care for children of frontline workers. Early on I would FaceTime her, delirious with panic, and ask if she'd been taking all of the precautions: masking, sanitizing, hand-washing. She'd give me a quizzical look. It said: of course, silly girl, I've been taking them. 
My mom's interest in medicine goes back a long ways, all the way to her childhood. I think there are a few reasons why: She was raised by a person with diabetes and assumed the role of caretaker as a child. And she simply cannot not help someone in need – empathy is just a part of her personality. She came of age during a time when a poor Indian woman didn't have many professional options, but she says she would have chosen medicine even if she did.
Her devotion made me want to give medicine a shot too, so I went to 'nurse camp' one summer, when I was 13 or 14. We put catheters in dummies and learned CPR, and I decided that healthcare was not for me. Mostly, I knew I had nothing of the preternatural calm with which my mother could handle medical emergencies: a biker hit by a car, an allergic reaction on an airplane, countless overdosed teens at the school where she worked. I'd witnessed her handle things like this with the kind of poise that you might encounter at a yoga studio.
In early March, when the pandemic began to devastate Seattle, I watched her accept the reality of the situation with this same attitude. She created a WhatsApp group with our extended family, opening with a COVID-19 PSA she'd taken a photo of. "I told them to stock up on food, masks, hand sanitizer," she told me recently. "They just thought I was being crazy."
And maybe she was going overboard, just a little: she changed her WhatsApp avatar to a picture of the words "STOP COVID-19" and started sending daily quotes about hope and resilience alongside every latest CDC guideline. Or maybe this is exactly what the situation called for. In any case, she continued to work on the front lines, ignoring my protests about her age and health as I knew she would. But whereas most COVID-related conversations I had were panicked, depressed, or ennui-filled, the ones with her were serious but sensible; realistic, and optimistic.
"It's like her shining moment," my sister said of the way our mom has engaged with the pandemic, which was not exactly with enthusiasm, but as if she had always been ready for a kind of doomsday. And in retrospect, she always kind of was. I think some of that has to do with class — getting sick while being poor can ruin you — and some of it is cultural. For her parents, from rural India, my mom has said, "hygiene could be a matter of life and death," and she still treats it like that. Growing up — like a lot of people with similar backgrounds — we had outside and inside clothes, shoes were never, ever worn in the house, and you'd better not cook with your hair down.
"I was so happy when people started talking about hand washing," my mom told me when we talked last week, remembering a time when she was a student and "for a project" she sat in a ladies bathroom and took a tally of how many people didn't wash their hands after using it. It's something I may have rolled my eyes at an earlier point in my life, but this year, I gasped out loud when she told me it was something like 30%.
I asked her how nervous she's been, deep down, about the pandemic, and she gave a very nurse answer. "Not necessarily nervous. It was more about making sure everyone understood the risk — when you're not used to it you'll just laugh it off." And maybe that's true, but in addition to being a nurse and immigrant and all the things that might prepare you for the upheaval we've experienced this past year, she's also a mom, and when it comes to keeping a level-head and putting on a brave face, I think that must have come in handy too.