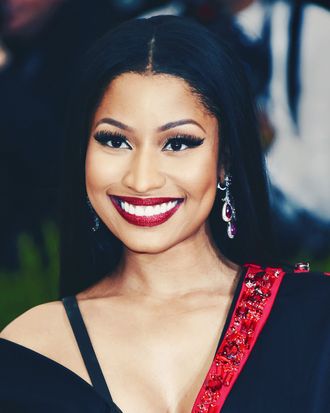 Congrats!
Photo: John Shearer/Getty Images
Among the things 2020 has rained down upon us with abandon: celebrity baby announcements. There have been secret babies (Jessica Biel and Justin Timberlake's; to a certain degree, Gigi Hadid and Zayn Malik's), there have been bafflingly named babies; there have been beautiful elf babies. So many babies! And now, we welcome another into the fold: Nicki Minaj's baby, who — according to TMZ — was born on Wednesday.
This is the first baby for Minaj and her husband, Kenneth Petty. They got married last October, making Minaj "Mrs. Petty" for real. Just before the wedding, she announced her intention to "retire & have my family," half of which she has now done. As Vulture reports, she has not stopped working, having bagged her first Billboard No. 1 hit (her "Say So" remix with Doja Cat) in May.
Minaj announced her pregnancy in July, Instagramming a selection from a maternity shoot with photographer David LaChapelle. TMZ does not have intel on the baby's name or sex.
So, what do we know about this baby? Well, for one, that it was (reportedly) born in Los Angeles and that it's a Libra sun with a Pisces moon, which — per this limited birth chart — means the baby may exhibit a "a great need to be part of a group" and enjoy "mix[ing] with people and seek[ing] partnerships." It may also "like and respect justice," and be "unmistakably compassionate and understanding" while maintaining a "strong sense of duty and self-esteem." Maybe! So much about the baby remains a mystery. But, regardless, congrats to the Pettys!