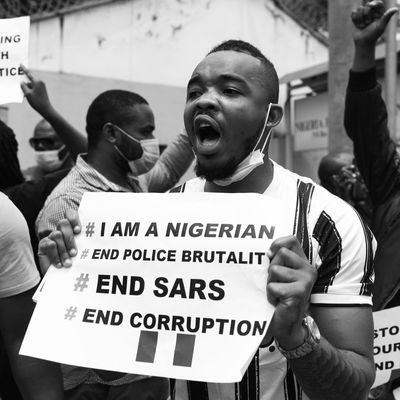 An #EndSars protester outside the Nigerian embassy in Nairobi.
Photo: Simon Maina/AFP via Getty Images
In Nigeria, protests have erupted against police brutality — specifically, against a notorious police unit by the name of the Special Anti-Robbery Squad, or SARS. Formed in 1992, it functions as a covert force, and is ostensibly tasked with fighting violent crime. But it has a reputation for inflicting violence, not combating it, and for acting with impunity. In recent years, SARS has been hit with egregious allegations of human-rights violations, including extrajudicial murder, kidnapping, torture, and rape. Even the man who established the unit laments the agency's reign, recently telling BBC that is has "turned into banditry."
Earlier this month, video emerged of SARS officers allegedly shooting and killing a young man in Nigeria's southern Delta State. The footage sparked nationwide outcry; on social media, hundreds of thousands of people used the hashtag #EndSARS to call attention to the agency's abuses and organize massive protests. Within a week, Nigerian president Muhammadu Buhari's government announced that SARS would be immediately disbanded, but protesters have decried the move as inadequate and refused the leave the streets until officials commit to fighting police brutality at large. Meanwhile, an indefinite 24-hour curfew has been enforced across the country, and at least 15 demonstrators have reportedly been killed during the protests, many at the hands of law enforcement.
Here's everything you need to know.
What is SARS?
In 1984, Fulani Kwajafa, then a commissioner of police, established the Special Anti-Robbery Squad to combat armed robberies and kidnappings, which were on the rise at the time. However, it wasn't until 1992 that the unit actually came together. It was initially composed of 15 officers who wore neither uniforms nor identifiers, the New York Times reports.
With this anonymity came a sense of impunity, according to the Times: Critics say that SARS's "faceless nature opened the door to abuse, making it difficult to identify and report rogue officers and emboldening them to act with impunity." The unit was known for targeting civilians and extorting them for money — particularly "young men with dreadlocks, ripped jeans, tattoos, flashy cars or expensive gadgets," per an Amnesty International report from earlier this year. Those who resisted, or who were unable to pay, were subjected to "torture and other ill-treatment." Between January 2017 and May 2020, there were at least 82 cases of torture, abuse, and murder involving SARS officers, Amnesty International found.
On October 11, the unit was immediately disbanded — but more on that in a bit.
In early October, a viral video sparked protests.
The recent wave of protests began earlier this month, after a graphic video emerged on October 7 of what appears to be the unprovoked murder of a young man by SARS officers. (Per the Times, Nigerian officials have since claimed that the video is fake and arrested the person who recorded it.) The video quickly went viral, and the #EndSARS hashtag — which dates back to 2017 — started to populate.
In the two weeks since, tens of thousands of people have congregated in public spaces in Lagos, Abuja, and other locations across the country to demand meaningful action to combat police violence. One set of demands has circulated widely on social media under the hashtag #5for5: the immediate release of arrested protesters; justice for those who have died at the hands of police, plus compensation for victims' families; the creation of an independent body to oversee the investigation and prosecution of all police-misconduct reports; psychological evaluation and retraining of former SARS officers before they're allowed to be redeployed; and increased salaries for officers to deter them from extorting civilians.
#EndSARS protests have also more recently erupted around the world, and the hashtag has been trending worldwide for days — in part, thanks to celebrities like Noname, Rihanna, and Cardi B, who have used their platforms to speak about the cause.
While the protests have focused on SARS and its brutal treatment of civilians, they also reflect Nigerians' mounting fury over the country's stark economic inequality and abuse of power at large. As Annie Olaloku-Teriba, a British-Nigerian researcher who studies empire and race, writes on Al Jazeera: "This culture of violence and wanton disregard for human rights within the unit did not emerge on its own. Rather, it reflects the moral bankruptcy of the system the Nigerian ruling elite have maintained in the country, as they have sought to enrich themselves illegally. SARS was just one of many police units used to protect the criminally rich from the consequences of the extreme poverty that surrounds them."
The government has refused to meet protesters' demands, and is now cracking down on unrest.
On October 11, just days after protests erupted, Inspector General of Police Mohammed Adamu announced that SARS would be disbanded, effective immediately. Many decried the gesture as hollow, given the government's past promises to disband, reform, or investigate the unit, none of which took SARS officers from Nigeria's streets.
"The government disbanded SARS in 2017, in 2018, and in 2019," Omobolanle Adams, a Nigerian graduate student at Boston University, told the Times. "We're not buying it this time." The day after Adamu's order, President Buhari went to television to address the protests for the first time, promising police reform and action to "ensure that all those responsible for misconduct are brought to justice." Then, just a day later, police announced that a new Special Weapons and Tactics team would "fill the gaps arising from the dissolution of the defunct SARS."
When government officials realized their actions would not placate the protesters, they began cracking down on the unrest. In recent days, videos and photos have emerged of law enforcement deploying tear gas and firing bullets at crowds. According to Amnesty International, since the protests began, at least 15 protesters have died, many at the hands of police; just yesterday, Nigerian police opened fire on protesters at the Lekki toll gate in Lagos, where at least 25 were injured and 1 person died, the BBC reports. Additionally, dozens of protesters have been arrested and remain in custody.
Just yesterday, a 17-year-old teenager identified as Saifullah died in custody in the state of Kano after she was allegedly tortured to death, sparking additional protests.
How to help the anti-brutality movement.
Aside from keeping yourself informed and spreading awareness, one of the easiest and most effective ways to support the movement is by lending financial support. One group at the forefront of the fight is the Nigeria-based Feminist Coalition, which has raised more than $180,000 to pay hospital bills, and provide things like food and legal assistance to protesters; right now, the group is currently accepting donations via bitcoin here. Additionally, under #EndSARS on Twitter, many people are circulating crowdfunding efforts to raise money for specific protesters in need. (As always, just make sure you look into the effort before sending over money.)
You can also send a letter to President Buhari and Attorney General Abubakar Malami, demanding they take swift action to end impunity for police brutality, via a convenient form on Amnesty International's website.