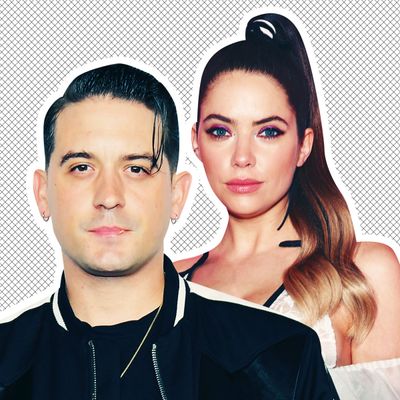 Well, congrats I guess.
Photo: Getty Images
It is with a vague sense of unease that I report: Things appear to be going well for G-Eazy. The flirtation between him and Ashley Benson has gotten "very serious," according to some sources. Maybe you thought the pair's rumored canoodling, circa May, would flame out by fall, seeing as Benson only split from her two-year girlfriend and possible secret wife Cara Delevingne in April. Maybe you assumed this thing with G-Eazy, whoever he is, would be a rebound. And maybe it is! But according to E!, it's also got legs.
"Many people in their friend group thought Ashley and G would be a short fling, but they are very serious about each other," an E! source said. "They have been inseparable for months and are basically living together at this point."
This alleged "insider" went on to explain that the couple's "relationship works because they balance each other out and love to have fun. They both make each other laugh all day long. G-Eazy thinks that Ashley brings him more down to earth and keeps him grounded. It's been very healthy so far and they are in a great place."
Sure, color me convinced. Ostensibly I have no reason not to wish these two strangers well: I know Benson primarily as co-owner of that sex bench, and G-Eazy, not at all, save for his allegiance to a slut bang that somehow reads as more disingenuous than the rest. Possibly because his chosen name rhymes with "sleazy," I cannot put my finger on it. Anyway, congrats to the happy couple, I guess?