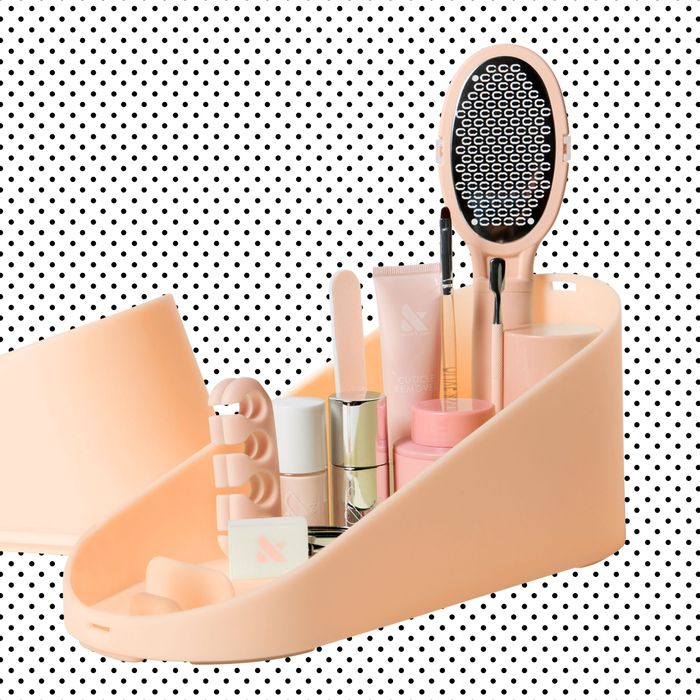 Behold: The Pedi System
Photo: Olive & June
This year, while practicing socially distancing, you've learned to dye your hair with fruit punch, declaw yourself in front of the TV, and even turn over your skin cells, all on your lonesome. But what about mastering the arduous task of painting your neglected toe nails, which live so annoyingly far away from your shaky hands?
Sarah Gibson Tuttle of Olive & June has accepted that challenge. Last year, Gibson taught everyone to paint their fingernails better with the invention of The Popp. This year, she's created the Pedi System: an extremely well-thought-out kit packed with literally everything you need to give your feet a skincare-and-makeup routine.
The base kit is comprised of ten tools, all housed inside Gibson Tuttle's latest invention, the Posey, an ergonomic foot rest that adjusts to two different heights for the perfect foot-painting positioning and angle. It's like a 2020 Caboodle that stores all the at-home pedi essentials. This includes everything from a dishwasher-safe foot file that can stand in for your Baby Foot booties to toe separators for your awkward waddles across the room.
You also get updated Mani System tools that have been tailored to the intricacies of feet and toenails, such as a Foot Serum inspired by the brand's Cuticle Serum, a nail clipper that's bigger, a nail file that's thinner, and a nail buffer that's smaller, in addition to a gentle dissolving Cuticle Remover, a Cuticle Pusher, a Cleanup Brush, and a new and improved Nail Polish Remover Pot with a twist-off lid.
For $60, you can purchase the tools (including the Posey) on their own, or add on a top coat and one Olive & June nail polish that lasts forever for $72. If your toes like to change outfits often, you can add six polishes to your kit for $100. Either way, you'll be well on your way to feet that look so good naked you'd rather draw fake shoes on them rather than go back to wearing actual ones again. Allow Gibson Tuttle to demonstrate how its done in the video below: