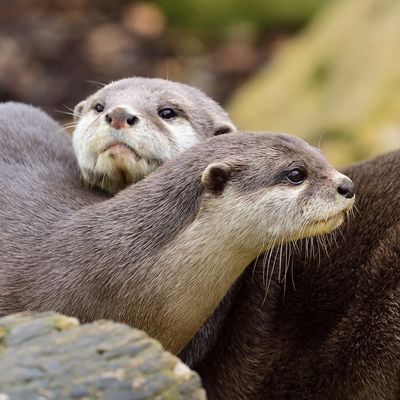 Soon, this will be Pumpkin and Harris (hopefully).
Photo: Tom Meaker/Getty Images/iStockphoto
Have you ever introduced two single friends whose interests and life outlooks closely align, with the hope that they'll start to timidly flirt and then maybe kiss and eventually fall in love? That's how I feel about these two lonely otters, both of whom recently lost their partners and were brought together through online dating, despite the fact that I cannot claim any involvement in their meeting.
Because otters form monogamous partnerships for life, moving on from the death of a partner is no easy feat. When Harris, an Asian short-clawed otter living at the Cornish Seal Sanctuary in England, suffered the loss of his dear love, Apricot, he was beside himself. "He was a doting partner to Apricot, so when she passed away a few weeks back, he was absolutely lost," Tamara Cooper, a curator at the Cornish Seal Sanctuary, said in a press release. Harris's life in captivity proved to be yet another obstacle to him finding a new love interest. So, in an attempt to help Harris find a new "significant otter," the Sanctuary made him an online-dating website, titled "Fishing for Love," and sent around his profile to other sanctuaries.
"I am very attentive, I love a cuddle, and I am a very good listener," read the profile, which featured a sweet photo of Harris beached on a rock. "I will love you like no otter."
Little Harris got lucky: In response to his ad, the Cornish Seal Sanctuary received interest from the Scarborough Sea Life sanctuary, which was also seeking a partner for their otter named Pumpkin, following the death of her elderly mate. After the Scarborough sanctuary sent along some photos of Pumpkin, of which the Cornish Seal Sanctuary presumably approved, the sanctuaries didn't waste any time: Harris is currently making the 400-plus mile journey to Pumpkin at the Sea Life Scarborough sanctuary, where the staff is hoping that Harris will submit to her and win her love. "Pumpkin has been extremely lonely so we are delighted that Harris will be coming to join her," Todd German, the Sea Life Scarborough display curator, said in the release. "[We] hope his arrival will provide Pumpkin with comfort and companionship."
Couldn't agree more! Please let these mourning otters bond over their recent tragedies and slowly open up their hearts to love once more.