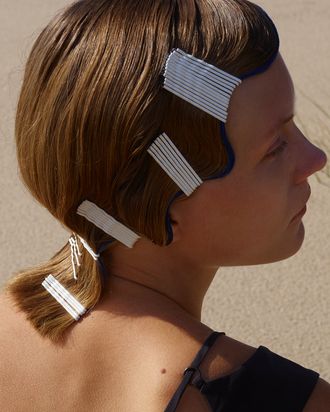 It's time to put things in your hair again. You may want to start slow (with shampoo). Then you can do some extra credit (a conditioning hair mask). And if you want to graduate with honors, you can take inspiration from Dries Van Noten's Spring 2021 show and put all your bobby pins in your hair.
Hairstylist Sam McKnight created a hair look for show that was straight-up wavy.
The undulating, surrealist hairstyle was inspired by the strongly etched lines of the 1980s artist Tony Viramontes (a legendary fashion illustrator who also did Janet Jackson's Control album cover ) and the kinetic filmmaker Len Lye.
To form the soft, gelled finger waves that flow like street lines seen from above, McKnight and his team slid in clusters of bobby bins (bumpy side up) at the trough of each wave. They also painted the edge of each model's hair in punchy shades of admiral blue, burnt orange, fluorescent yellow, eggplant purple, or arctic-freeze blue (the same colors seen in the clothes).
This is just another perfect way to ride out the remainder of your awkward quarantine bangs or haircut. And if you're cleaning your apartment and you find a bobby pin, just put it in your hair and repeat.