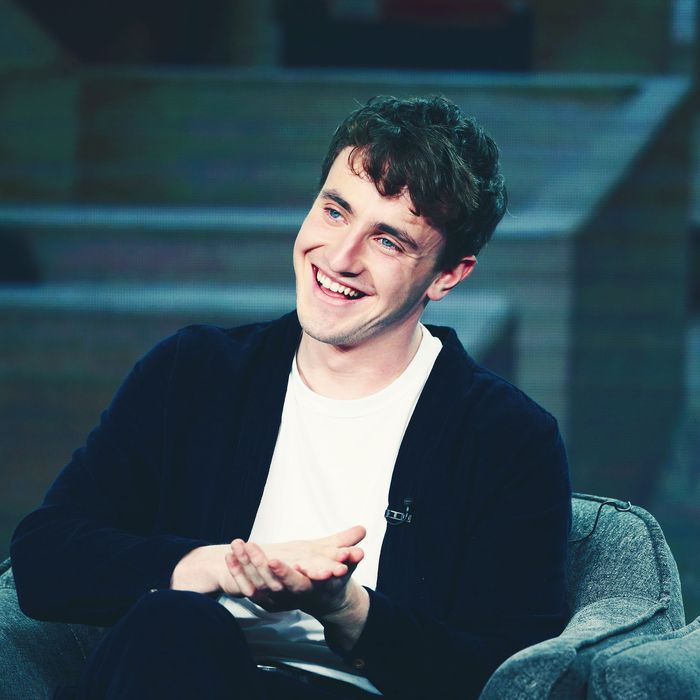 Photo: David Buchan/Variety/Shutterstock
The 24-year-old Irish actor Paul Mescal hasn't been on the scene too long, but is already well known for a few key aspects of his career. Namely, he is known for being found irresistibly sexy for doing totally normal things, playing Connell in the TV adaptation of Sally Rooney's blockbuster novel Normal People, and wearing a delicate chain necklace on said TV show, one which some viewers found irresistibly sexy. It all boils down to three main concepts, really: normal, sexy, chain.
At last, Mescal has addressed this latter term with which he has been exhaustively identified. In an illuminating GQ profile, Mescal, "wearing a plain white T-shirt and chugging a can of Coke" over Zoom, says of the neck candy that helped cement his sex-symbol status: "It wasn't something that we put any focus on during filming. I think there has been a kind of leaning on the sexualizing of it, which has been a little bit difficult to adjust to." Mescal added, "I don't really have a response to it, because I don't know what to say other than it's a chain, and it's a chain referenced in the book, and it's a chain Connell wears. It's not something I lie in bed thinking about at night." Reportedly, Mescal gave the chain to his co-star Daisy Edgar-Jones as a gift when they were done filming.
There you have it. Paul Mescal the actor does not lie in bed thinking about the chain Connell the character he played on a TV show wears because the character in the book the show is based on wears it. Will this guy continue to be photographed looking at his phone as he walks down the street? Probably.