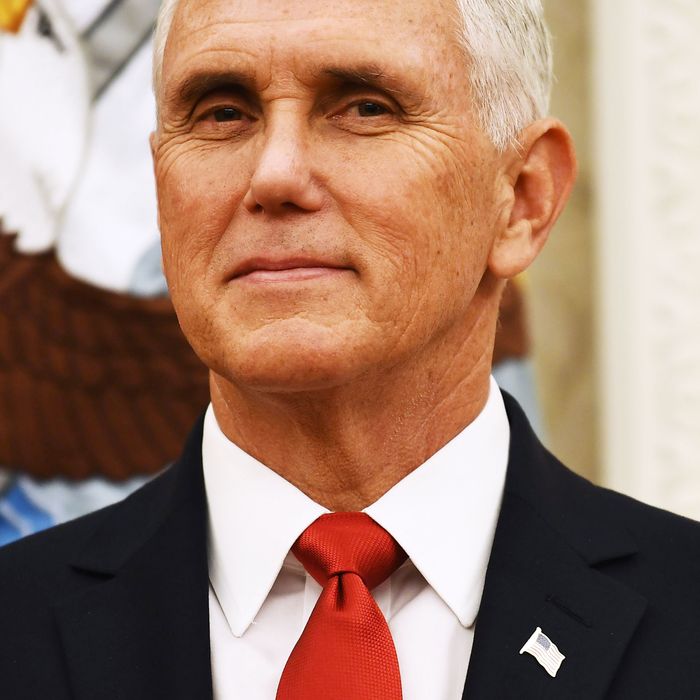 No prophylactic barrier for this weenie.
Photo: BRENDAN SMIALOWSKI/AFP via Getty Images
Against all odds, the vice-presidential debates will proceed Wednesday night as scheduled. But considering what happened after last week's debacle — various people in attendance, including the president himself, tested positive for the coronavirus a few days later — the Commission on Presidential Debates has implemented a few safety precautions. The candidates, incumbent veep Mike Pence and Democratic contender Kamala Harris, must stand at least 12 feet apart from one another and undergo daily COVID-19 testing. The Commission also plans to separate the pair with plexiglass dividers, a concept Pence vehemently opposes.
This is odd for two notable reasons. For one, Pence's boss and a long list of his colleagues — people with whom Pence has recently enjoyed close, maskless contact — have received COVID-19 diagnoses. And for two, everybody knows that Pence is famously loath to be alone with any woman other than his wife, whom he calls Mother. Given that Mother forbids him to do something as innocuous as dining alone with a woman, shouldn't he be overjoyed at the prospect of his own prophylactic cell?
And yet he is not. "If [Harris] wants it, she's more than welcome to surround herself with plexiglass if that makes her feel more comfortable," Marc Short, the vice-president's chief of staff, told the Washington Post today. "It's not needed."
Pence maintains that he has tested negative, although experts believe the virus to have an incubation period of up to two weeks, and fresh positives within Pence's professional orbit keep surfacing daily. Still, according to to Axios, his campaign's line remains: "If Sen. Harris wants to use a fortress around herself, have at it." Maybe Pence, like the president, is hoping that physical displays of force will triumph over medical fact. Or maybe simply he feels bold enough to acknowledge a woman from a safe distance, secure in the knowledge that Mother will keep watch from the wings.