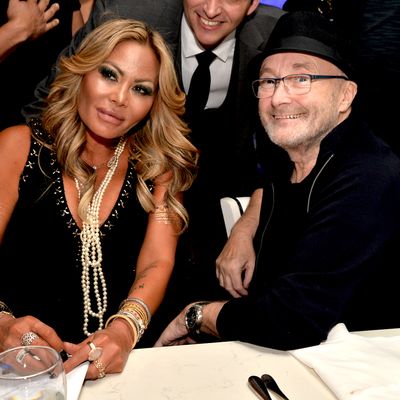 Orianne Cevey Collins Mejjati Bates and Phil Collins.
Photo: Manny Hernandez/WireImage
Phil Collins! Phil Collins. I haven't heard that name in years, or since I watched those twin teen YouTubers experience "In the Air Tonight" for the first time, a viral event that occurred in … August, somehow. Hmm. Well, anyway, now it is October, and the timeline is decidedly darker, and Phil Collins's Miami mansion is allegedly under siege by his ex-wife, her new husband, and their three to four armed guards. Poor Phil Collins. How could such a thing have happened?
Through force and scheming, according to court documents published by the Miami Herald and filed in Miami Dade County on October 15. Orianne Cevey Collins Mejjati Bates and Phil Collins, the docs explain, married in 1999 and filed for divorce in 2006, beginning "a new romantic relationship" in 2015. The pair have two children together, and although they did not remarry the second time around — Orianne appears to have had another husband during this period, whom she officially divorced in 2017 — they did cohabitate. The suit says Orianne moved into "the Phil Collins Home" (purchased by Phil in 2015 for $33 million; recently valued at $40 million) "as his guest," and his girlfriend. But all of that ended when, on August 2, Orianne secretly married another man in Las Vegas, days after dumping Phil Collins via text.
You can see where, given everything, Phil Collins "naturally expected her to move out of his house," as the court filings contend. (Emphasis not mine.) Instead, she seemed only to move into it more firmly, reportedly hiring gun-toting heavies to patrol the property and changing all the alarm codes, among other measures. The singer himself has been safely ensconced in Switzerland, while the newlyweds are allegedly holed up in the "Phil Collins Home" with his eight Grammys; his two Golden Globes; his Academy Awards; his platinum and gold records; and all his Alamo stuff (estimated worth: $15 million). They are "threatening, implicitly and explicitly, to prolong their unlawful occupation of the property through force," according to court docs, and to leak embarrassing personal information about Phil Collins unless he pays her "a preposterous amount of money based on an oral agreement that does not exist."
In a countersuit, Orianne named a more precise amount, asking $20 million in exchange for leaving what she calls the "Family Home," per an affidavit obtained by the Daily Mail. According to the tabloid, Orianne classified that armed takeover narrative as a "fabricated … tale" and says she retained the same security detail they've used for five years, one of whom she fired for, allegedly, passing inside information to Phil Collins. Orianne also contends that she found roughly 20 hidden cameras installed around the mansion, including in her "personal bathroom and changing room … without [her] knowledge or consent." She accused Phil Collins of spying on her in her "most personal moments," explaining that she covered the cameras because the discovery left her "greatly disturbed and outraged." She also argues that, while Phil Collins does own the house, she helped pick out furniture and choose the mansion's name (Fil D'Or, or Golden Thread), apparently entitling her to half.
Despite Orianne's allegation that Phil Collins is trying to "strip them [her and … her new husband?] of all their belongings, excepting only the clothes on their backs as they are dragged out of their home," she does actually have somewhere else to go. As Phil Collins's attorneys have pointed out, Orianne quietly bought a $1.7 million pad in Las Vegas last year. As far as his legal team can tell, there's nothing preventing her from simply moving there; her lawyers, however, say that suggestion "only highlights the improper nature of this entire lawsuit, and Mr. Collins' true motive — to harass and demean Orianne, while hurting the children at the same time." Hmm!
Phil Collins's attorneys are asking for a preliminary injunction, which would help local police clear this pair off of the premises. "We got a letter from [Orianne]'s attorney dated September 20th that was a blatant effort to shakedown Phil and, as a former federal prosecutor, I have zero tolerance for that," Jeffrey D. Fisher, representing Phil Collins, told Vanity Fair. "So, now, we're going to fully enforce the law against her."
This article has been updated.