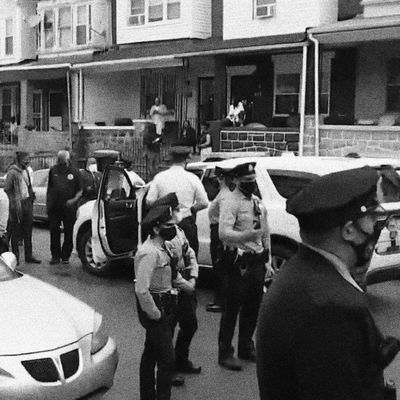 Yesterday afternoon, Philadelphia police officers opened fire on a 27-year-old Black man in front of his mother, who attempted to defuse the situation to save her son's life. After being rushed to the hospital, the man, Walter Wallace Jr., was pronounced dead, sparking protests against racist policing that carried well into the night.
The fatal shooting occurred around 4 p.m., the New York Times reports, after the Philadelphia Police Department received a report of a man with a knife at Locust and South 61st Streets in West Philadelphia. There, two officers encountered Wallace, who they say was indeed wielding a knife, and whose family says struggles with mental-health issues. What ensued was captured in a graphic video that was shared on social media. In the video, officers can be seen pacing backward in the street and pointing their guns at Wallace, who's on the sidewalk, while indecipherable cries from bystanders ring out in the background. Then, Wallace moves into the street toward the officers, but appears to halt in his tracks. While the camera pans away momentarily, a flurry of shots can be heard before Wallace collapses in the middle of the road.
"Bro, they just killed him in front of me," a man can be heard saying in the video, as a distraught woman identified as Wallace's mother and a number of bystanders rush to Wallace's limp body. "Y'all ain't have to give him that many shots." While officials have not yet reported the exact number of bullets that struck Wallace, witnesses and family members estimate that it was around a dozen. Later that day, Wallace died at the hospital.
In a statement to the Philadelphia Inquirer, Sergeant Eric Gripp, a spokesperson for the police department, said that the responding officers ordered Wallace to drop his knife, but that he didn't comply, and "advanced toward the officers." "Why didn't they use a Taser?" Wallace's father, Walter Wallace Sr., said of the incident. He noted that Wallace has struggled with his mental health, but was on medication, and that "his mother was trying to defuse the situation." (According to one witness, Wallace's mother chased after her son and tried to shield him from the officers, but he brushed her off.) In a statement, Wallace's family said he "didn't deserve what he got," adding that he was a father who recently got married.
In the hours after the shooting, Mayor Jim Kenney announced that he had seen "the video of this tragic incident," and that he was in touch with Wallace's family "to hear their concerns firsthand, and to answer their questions to the extent that I am able." The city's police commissioner, Danielle Outlaw, promised an investigation into the shooting "to answer the many unanswered questions that exist," which will include reviewing footage of the officers' activated body cameras. Progressive District Attorney Larry Krasner is also looking into the incident and has urged anyone with information to contact the district attorney's office. Per the Inquirer, both officers have been removed from street duty, pending investigation.
Wallace's death is the latest police killing of a Black American, an issue that dominated headlines and sparked nationwide protests this summer. While officials were releasing statements yesterday, locals were mobilizing in the streets, where they chanted "Black Lives Matter" and "Say his name: Walter Wallace." Around 11 p.m., some parts of the demonstration took a violent turn. One video shows police in riot gear beating protesters with batons. In another part of the city, a police car was set aflame. By the end of the night, officers had arrested 20 people "in relation to looting," according to the Inquirer, and detained 10 others. Additionally, one officer was hospitalized in stable condition with a broken leg. It is unclear how many protesters sustained injuries.