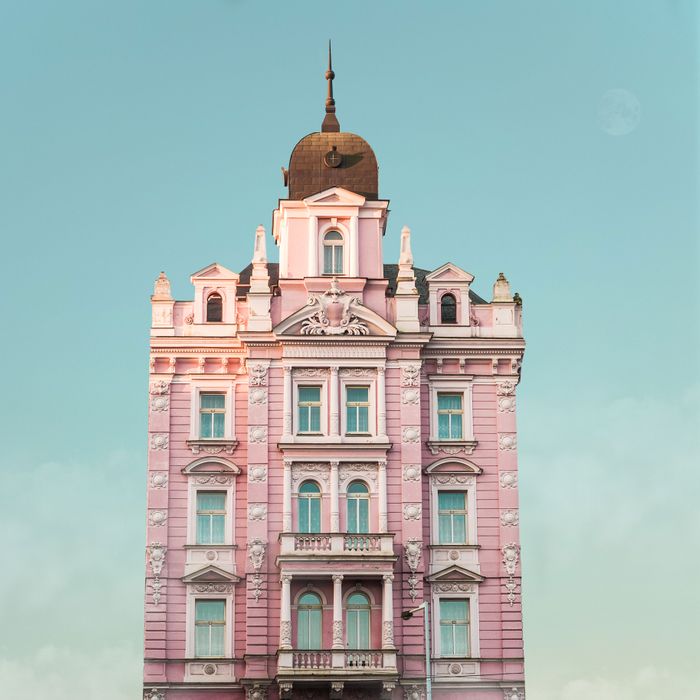 Hotel Opera Prague, Czech Republic | c. 1890
Photo: Valentina Jacks
The famous Instagram account @accidentallywesanderson is releasing its first book under the same name. For the past three years, the team there has been posting images of perfectly centered, pastel quirky sites — or places replicating Wes Anderson's cinematic aesthetic. Fans of the director's style and world travelers alike have flocked to this feed for travel inspiration, historical context, and, of course, the captivating images.
What started off as a travel bucket list for husband-and-wife duo Wally and Amanda Koval has turned into a social-media sensation with 1.1 million followers, including John Mulaney, Virgil Abloh, and Kacey Musgraves. However, the Kovals don't like to call them followers. Instead, they say they are "the Adventurers" who make up the Accidentally Wes Anderson Community. (Yes, Community with a capital C.)
Wally discovered Wes Anderson's films as a young boy, when he joined his father for a viewing of Rushmore. "I remember sitting down and just being like, What is this?," he says. And as you may have guessed, he's been a fan ever since — just don't ask him to name his all-time favorite Wes Anderson movie. That would be too hard to decide.
In 2017, Wally started the Instagram page after noticing random photos on social media that reminded him of Wes Anderson movies. He began saving them as places he and Amanda hoped to visit one day. "We never set out to create anything beyond a personal travel bucket list," he says. Now Wally and Amanda run the Instagram account — reviewing submissions, writing captions, and posting on the feed daily.
In August 2017, shortly after the couple started the account, Vogue published an article about @accidentallywesanderson, and overnight the page gained thousands of followers. Wally says that this was the moment he realized it could be something big. However, he emphasizes that the real success of the account has come from the involvement of the Adventurers.
"It's the sum of the whole," says Wally. "And that's what makes it so special."
From there, the account kept growing. Now the book is being published after two years in development. Accidentally Wes Anderson features more than 180 photographers and more than 50 countries, hitting every continent. (Yes, even Antarctica.) By turning the pages of this book, you travel from Tokyo to Mumbai to Delaware, where Wally grew up.
Although he had no idea the book would be released during a pandemic, of course, Wally expects it will bring readers a sense of hope and inspiration for their next trip, once travel is safe.
"Hopefully, this will be able to give people some positivity and some anticipation for future adventures," says Wally. He also hopes it will inspire people to explore not just far-flung locales but also their own backyards, because you never know where you'll find an Andersonian spot.
While it includes shots that have been featured on the account's Instagram feed, about half of the images are brand new. Each site featured in the book includes the name, location, and date it was founded or built, as well as a short description of its history. The collection of images and stories is preceded by a foreword from the man himself, Wes Anderson. It is currently available for presale and will officially be released October 20.
The Kovals are relaunching their website to allow for more submissions and act as a platform to post more photos. The site will also feature a search engine for users to input any city and be given Anderson-inspired sites nearby. No more searching endlessly through the feed to find one specific place.
Keep scrolling to see a selection of images from the book.