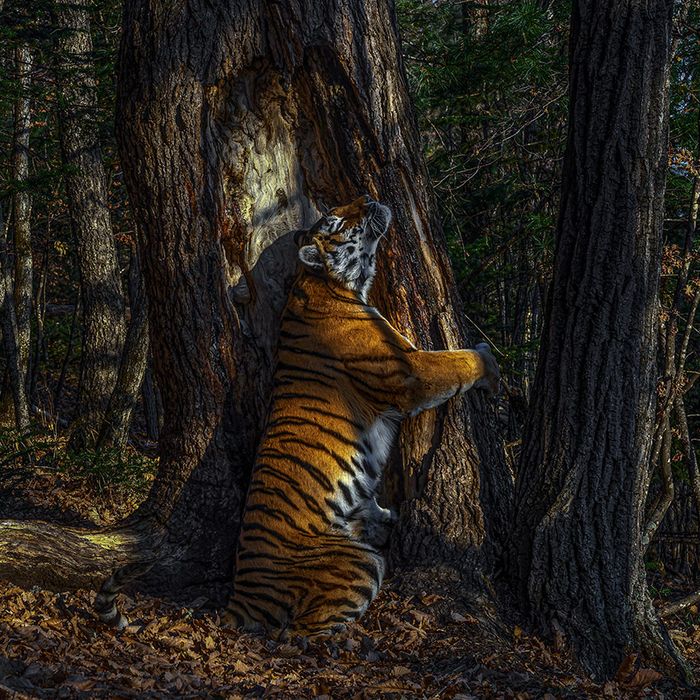 Photo: Sergey Gorshkov/Wildlife Photographer of the Year 2020
It has come to my attention that a striking image of a blissed-out tiger in a Siberian forest hugging an ancient Manchurian fir tree with which she is clearly besotted has been given one of the most sought-after awards in the world of photography. You know that Looney Tunes cartoon where the Abominable Snowman cradles Daffy Duck? It's kind of like that, except it actually happened.
The Guardian reported on Tuesday that Sergey Gorshkov, the Russian photographer who captured this image, spent 11 months in pursuit of the extraordinary shot that led him to be named 2020 Wildlife Photographer of the Year by the Duchess of Cambridge. The photograph won out over 49,000 other images submitted. Judging panel chair Roz Kidman Cox described the image as "a huge tigress as she grips the trunk in obvious ecstasy and inhales the scent of tiger on resin, leaving her own mark as her message." Kidman Cox added that it is "a unique glimpse of an intimate moment deep in a magical forest." Very high praise.
Gorshkov set up his shot using hidden cameras, hoping to glimpse the rare Amur, or "Siberian," tiger that stalks the forests of eastern Russia and China. There are only some 500 to 600 left in the wild. In addition to their scarcity and ferocity, Amur tigers circulate in vast ranges of territory, making them extra difficult to photograph. Good job, Sergey.
Really happy for this photograph to have won a prestigious award, but maybe it could win the rest of the awards now too, and we can all call it a day? There are no more Nobel Prizes left this year, but we've still got the Golden Globes…. the Academy Awards…. probably some weird socially distanced hot dog eating contests. I suggest we forego these ceremonies, set aside our ambitions, and let this horned-up tiger hugging a tree take the wheel.