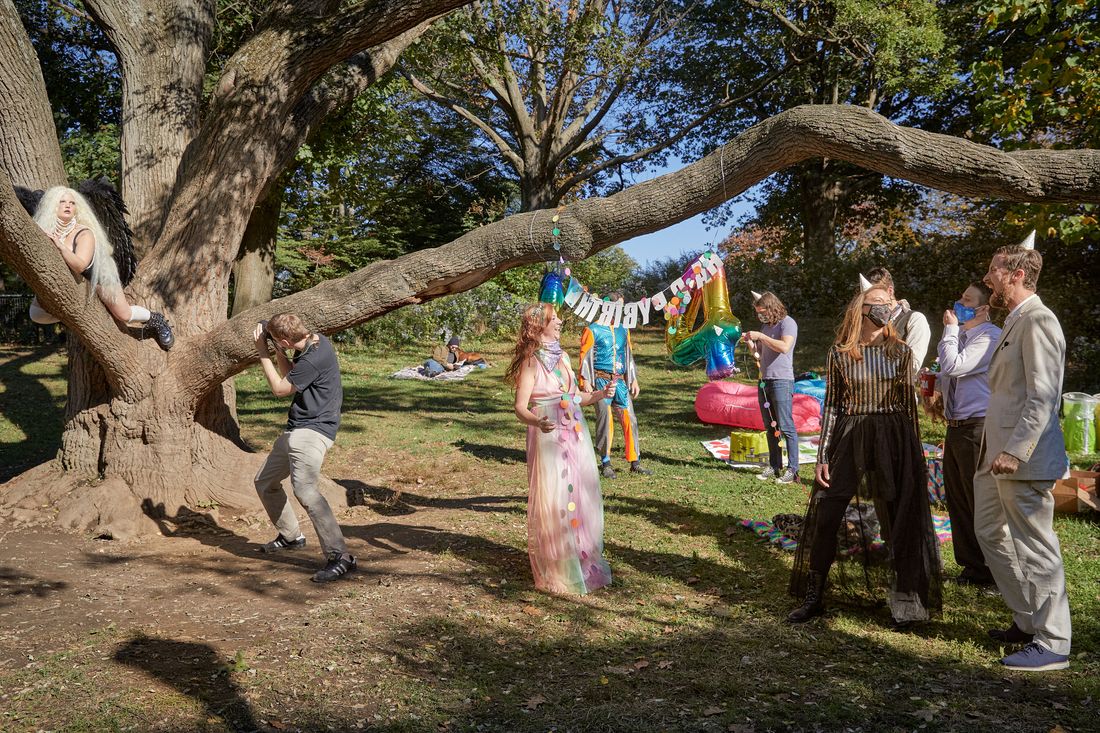 Left: Model Kyrsten Sinclair poses for a "gothic angel" photo shoot. Right: Kyle Gorjanc celebrates her 40th birthday with a "really fancy" sparkle-fun-time-rainbow picnic.
Photo: Jonathan Bumble
As Saturday Night Live's former city correspondent Stefon would say, Prospect Park "has everything." Since 1867, its 500-something acres have served as Brooklyn's collective backyard, bringing together five different neighborhoods and their inhabitants. On any given weekend, it would not be unusual to find a quinceañera photo shoot taking place next to a game of ultimate frisbee, or a woman on horseback trotting by a drum circle. This collision of activities was only made more extreme by the pandemic. The park is no longer just Brooklyn's backyard but also its living room and dining room, plus its newest gym and hottest nightclub. It's where birthdays and major life events like weddings and baby showers have migrated.
New Yorkers have figured out how to make the most of their picnic-blanket sized real estate, buying luxurious furniture, designer coolers, and even camping lanterns to keep the fun going well into the night. More importantly, though, the park has given New Yorkers the space to figure out how to coexist (safely) together in this new reality.
We visited on October 17 and 18, the last weekend of the year it was expected to stay above 70 degrees. Not that the weather's stopping anyone. "If it's 50 degrees and sunny, I'm still coming out," said one diehard picnicker while sipping a Trader Joe's spiked seltzer. "What's the alternative? Sitting at home and not seeing anyone?"
Saturday, 12:30 p.m.: A Wedding on the Long Meadow
"We met at Pratt, and we live really close, so we come here all the time. We've seen other people have their ceremonies here, and it looked really nice. We didn't want to wait to get married until the pandemic was over, because who knows when that will be? We found a wedding officiant online. We used this app, it's basically like TaskRabbit, but it's called Thumbtack. He's a reverend and he's been doing a lot of Zoom weddings. He drove all the way from the Bronx. When he made the pronouncement at the end, a lot of people sitting in the grass nearby clapped. It was really sweet." —Ming Chang
Saturday, 12:45 p.m.: A 6th Birthday Party on the Long Meadow
Saturday, 5 p.m.: A 'Stoop Sale' Off the East Drive Bike Path
"My friend Aspen and I are moving, so we wanted to sell stuff. And then more friends came with their stuff." —Clarissa Liu
Sunday, 1 p.m.: A Casual Hang Near the Picnic House
"You must think I'm a fraud because no one's here yet, but there are probably around eight people who are going to show up. I've been texting them for the last hour, but as Stephen, my roommate, said, people always show up about an hour, two-and-a-half-hours late to these sorts of things. I do Google Cal invites. Facebook's over. [Ed. note: About 10-12 people did eventually did show up.] We come here every week. One week it was too warm, so we went to the beach. And before that we were just going to the beach every weekend. I was very anti-park for a long time. I was like, Why would you go to the park when you could go to the beach? But then when it became too cold to go to the beach, I was like, Alright, I guess we'll go to the park. I saw people sitting on these chairs, so I was like, Well, I guess this is what we're going to do now. We gotta make this fun. It's been a real social scene. There are these very enterprising ladies who come around and sell frozen drinks in pouches. They're better than nutcrackers — these guys are like, bespoke or something. They're very good. I'm drinking a Trader Joe's brand hard seltzer at the moment." - Nicholas Feitel
Saturday, 1:45 p.m.: A Birthday Party by the Bandshell
Sunday, 2 p.m.: A Weekly Cookout by the Bandshell
"I've got some merguez sausages going and some kefta, which is normally in a kebab, plus some vegetarian options as well. I've been doing this once a week the whole summer, just so people can hang out outside. I barely knew how to do this in the beginning. The first time I tried to light it up, it didn't work, and my boss was here. It was really embarrassing. I ran out of matches. It was a whole thing. But at this point, it seems to be doing what it has to do, which is good." - Jen Roberton
Saturday, 3 p.m.: A Quinceañera Photo Shoot by Prospect Park Lake
"I already had my party in March, one week before everything shut down, but we had to wait a while to do the photo shoot because of the coronavirus thing. This is the first time I've really been dressed up since then. It feels a little weird getting compliments, but it's okay." - Valeria Flores
Saturday, 2:40 p.m.: An Art Class in the Nethermead
"The week before last we had about 10 kids in the class, but now it's starting to get a little cooler. Usually, I say I teach 'classical art,' because we do rendering from life, but this time I wanted them to really reach inside and not just describe what they're seeing, but to give it meaning. I said if you look at the grass and the difference between when the sun is on it and when it's covered in shade, we can use that as a metaphor for the weather that we're feeling inside. I think it's a good exercise for right now." - Sharon Wybrants
Sunday, 2 p.m.: A Surprise "Glam Picnic" by the Baseball Fields
"It's Lola's golden birthday, so the picnic is gold themed. Your golden birthday is when your age matches the day. She turned 17 on October 17th. I've been planning this for like two weeks. It was a surprise. She's my best friend. We've been picnicking a lot, so that's where I got the idea, but I was like, let's do a glam picnic. I looked up 'glam picnics' on Pinterest and saw the pillows and all fabrics. And I got the toothpicks with pearls on them at the dollar store." - Thomas Jimenez, senior at Fort Hamilton High School 
Sunday, 1:30 p.m.: A Date by the Baseball Fields
"This is the first time we've been in the park together. We were talking about going to Governor's Island next." - Adam Teckie
Sunday, 3:45 p.m.: Friends Dancing on the Long Meadow
"We all just moved here. I'm from Virginia, Chani is from California, and he's from Australia. We were biking here from Crown Heights and we were like, 'Wow, we are so lucky.' I mean look at this! Literally look around us. There's nowhere in the world where there are so many people who are loving each other from afar and breathing in the same air! Ah!" - Hindy Deitsch
Sunday, 2:30 p.m.: A Nap by Prospect Park Lake
"I just got these hammocks a few weeks ago. I came here last weekend by myself, and today I wanted to see if I could do two hammocks instead of one. I didn't think it was going to be quite this perfect. I live in Williamsburg, and I like Domino park, but you don't get this. The bridges and the river are beautiful, but I mean, this lake… I could take a nap and wake up and forget that I'm even in Brooklyn. Not that I'd want to, necessarily. But it's a slice of heaven. I'm sure I'll come here next weekend and find people in this exact spot." —Steve Ruvolo
Sunday, 4 p.m.: En Plein Air on the Long Meadow
"I got into Brown, and I'm a freshman, but freshmen aren't allowed on campus yet. I was really looking forward to it, but I'm also grateful to have been able to choose to spend my time the way I have. I don't often paint people here, but it's cool to see how many are here just chilling. There's so much chaos, it's nice to see something like this. In terms of the greenery and the flora, it's a nice break from being at home and from technology and social media. Sometimes it feels like the other side of the world." - Onaje Grant-Simmonds
Sunday, 4 p.m.: A 'Fight Club' Meetup on the Long Meadow
"I started doing this around March or April, when gyms closed. Me and my brother came and we were just playing around with the pads and people started to come up. We call ourselves the Prospect Fight Club. The PFC. We have a WhatsApp group called that. We've been doing it every week now since other people started to join. We're motivating each other. I think everyone's in higher spirits after taking out aggression on the pads. Now that it's the fall, there are a lot more people in the park. When it was summertime and it was really hot, we had more space. It's funny being next to people's picnics. Sometimes there's a salsa band. I'm going to try to do this until it's too cold to do it anymore. I've learned to work out from home, so I don't know how motivated I am to go back to a gym. This is free." —Reggie Scott
Saturday, 6 p.m.: A Picnic With Neighbors on the Long Meadow
"We all live in the same building — the tall one with the tower right there. This was not a pre-Covid thing. But, you know what? We're going to come as much into the winter as we can, I'll tell ya. We like to sit on top of the rise so we can see all of the activity! Doug and I brought the table, Andrea and Seth brought the tablecloth, and we all brought our own chairs and food, wine, and beer. Our collective menu consisted of lentil and quinoa pilaf, salad, turkey/gouda/avocado sandwiches, chicken tikka with potatoes and cauliflower, and chocolate." - Leslie Gallager
Saturday, 6:22 p.m.: A Lively Birthday Party on the Long Meadow
"It's my 29th birthday. I just wanted to find a way to celebrate without putting people at risk. We're just trying to make the best of it, especially knowing that in the winter it's going to get worse. This might be the last hurrah before we all hibernate." — Susana Rivera
*This article appears in the October 26, 2020, issue of New York Magazine. Subscribe Now!