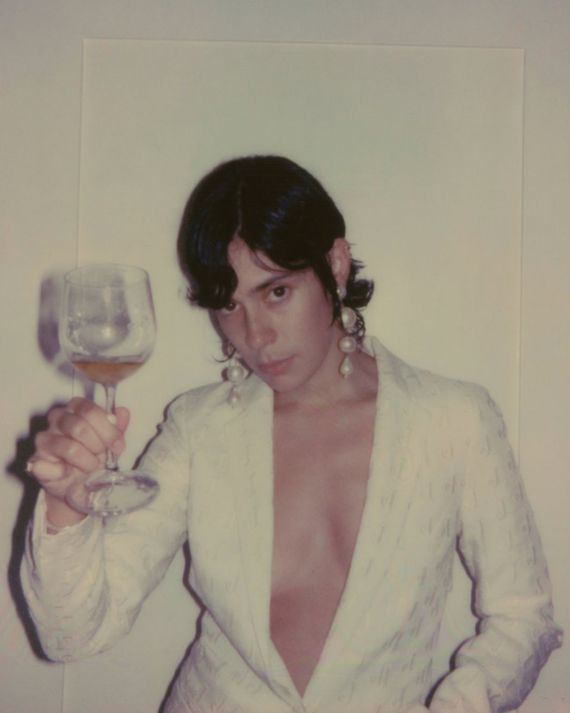 Roberta Colindrez's Instagram is private. This is just common knowledge in certain circles, and when I ask about it, the 34-year-old actress deadpans an answer: "Because lesbians are creepy."
In every creepy lesbian's defense, if you've seen Colindrez act — onstage in Fun Home, in her breakout role in Amazon's I Love Dick, or, most recently, playing the dreamy Nico on the dearly departed Starz Latinx drama Vida — you know it's hard not to fall for her. Now, don't get her wrong. She loves her fans, loves lesbians! She's just uninterested in interacting with strangers over social media. "I'll tell you fucking everything if we meet each other," she says. "It's really special to keep my private life private. So those who choose to share it feel like they're really in on something."
I'm guessing most of the Instagram requests she gets are from people dying to be in on that something. Her locked-down social media seems like an example of real-life swagger, a trait she tends to bring to the characters she plays, but she insists that's not who she really is. "People assume I'm a Lothario in real life," she says, "and I never get hit on by anyone."
Well. Not never. In 2017, she was with a friend at the opening night of Hamlet at The Public in New York. "And he was like, 'Bitch! Rachel Weisz is here, don't look,'" she says. "And she's like, feet away from me." Over Zoom, Colindrez is as calm and collected as she appears on TV, which might be what's keeping people from shooting their shot at her. It's hard to imagine her losing her shit over a woman. But that's another common misperception about her: "If I like someone, I am not suave."
"Then I feel a tap on my shoulder, and I turn and it's her," she says. "She's gorgeous onscreen and infinitely more beautiful in real life. And she's like, 'I just wanted to say, I love you.' And I was like, 'Please don't say that.' And then Daniel Craig comes over and was like, 'She really does love you.' And then I went around the rest of the night, just getting drunk and asking people if they knew if they were open."
She's trying to tell me how smooth she isn't. Like she does not have some of the best hair in Hollywood, like she does not possess the confidence she appears to have onscreen, the kind that screams, "I'm here to steal your girl." It's the kind of character she always seems to play: upstanding, soft-butch dreamboats who anyone would risk anything for. "Being a Latin person and being gay, you are probably gonna play a lot of butch characters," she says. "You see Latin people play tougher characters in general — somehow everyone thinks that all Latin people come from poor backgrounds and harrowing circumstances."
But she's anxious to break out of that and try new things. It's something she gets to do in Monsterland — an eight-episode horror anthology series based on stories from Nathan Ballingrud's North American Lake Monsters — which is now available to stream on Hulu. Colindrez stars in the fifth episode, "Plainfield, IL," which is a gender-swapped version of Ballingrud's story "The Good Husband," about the final impasse of a married couple's complicated relationship. Let's just say things get spooky. Colindrez was, in part, attracted to the role because the character wasn't the good-at-heart type she's become known for playing. It's something new for her, for which she's grateful.
Many of the roles that Colindrez has played — like Devon in I Love Dick and Nico in Vida — have propelled representation of both Latinx characters and queer characters forward; it's something she's sought out on purpose, and it's something she's proud of. "I'm just beginning to see these stories that are about queer people that are about them being queer," she says. "I love to play a lawyer too, because, honestly, you don't see Latin people playing white-collar jobs like that. I got offered roles like 'Officer Diaz' all the time." She promises her upcoming starring role in Abbi Jacobson's A League of Their Own will keep pushing these stories forward, by telling the queer, Black, Latin stories of women's baseball.
In real life, she's been blazing that trail, too. Earlier this year, she was included in the New York Times feature, "The Butches and Studs Who've Defied the Male Gaze and Redefined Culture" — which is basically every famous butch you've ever crushed on: Lea DeLaria, Kimberly Peirce, JD Samson, and the GOAT Eileen Myles. Being included in such company was an honor, but Colindrez loved that the article allowed them all to discuss their identities and lives beyond their sexuality and genders.
"The simple answer is that it's fucking cool. It's a lot of street cred. There's a casting call for a hot butch and they call you," she says. "It's become very funny, but also heartwarming on a personal level, because I grew up feeling like a fucking monster. I had such a hard time when I was with my friends that were girls because I knew I was so different from them. I knew I was never going to be considered beautiful. I didn't know it was going to become a segue into a very cool occupation." It's reassuring to know that the projected Colindrez — a cool, calm, Lothario — isn't actually the real one. She's a person who rightfully hates social media, isn't as collected as one would think, and is incredibly thoughtful. Which might make her even hotter.
A couple days after I talk to Colindrez, she does an Instagram Live with Miranda July for the lesbian dating app Lex, which is the only dating app she would consider using. July also brings up Colindrez's private account. (Told you it was common knowledge.) But sliding into those DMs, Colindrez told me, is something she would advise against. "I'm not going to be like, 'Stay away,' but the DMs definitely won't work." So if you see her in person, might as well shoot your shot, but that all depends on if she's single, which is something she likes to rightfully keep private. "I tend to keep that private for sure," she laughs, "But when I'm booed up, I'm booed up."