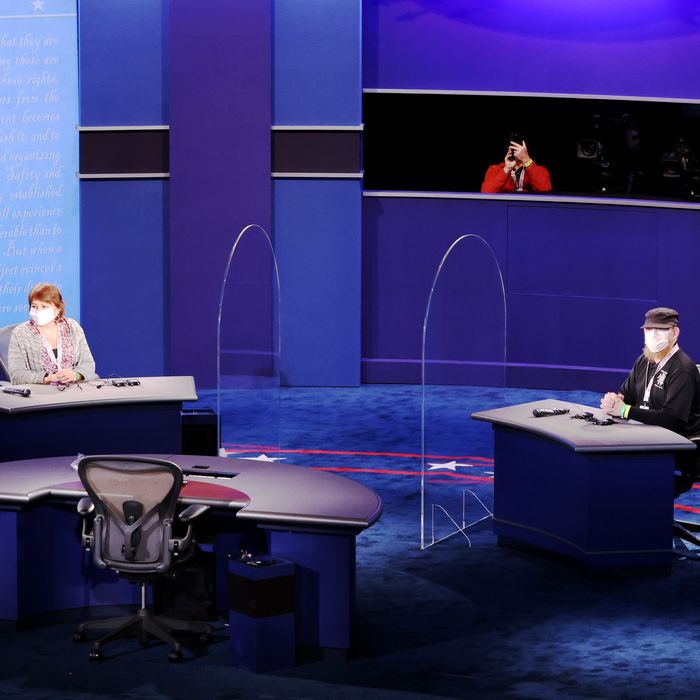 Photo: Justin Sullivan/Getty Images
With the news that the White House is a veritable COVID-19 hot zone, a teeming buffet of hazardous aerosols, some of them possibly spewed by none other than the president of the United States, who was walking around maskless days after being hospitalized for coronavirus infection like a zombie in a haunted mansion, organizers for tonight's vice-presidential debate have proposed some extra safety precautions.
Vice-President Mike Pence has been very close to many of the nearly two dozen people in Donald Trump's orbit who have come down with the virus in the past week. Pence continues to say he is testing negative and has resisted plans for both himself and his opponent, Kamala Harris, to sit behind plexiglass barriers.
Now that we've actually seen the barriers, though, it's hard not to wonder what all the drama was about. Harris and Pence will be sitting 12 feet from each other, separated by short arched plexiglass sheets that are smaller than the ones at my grocery-store checkout counter. These partitions are almost laughably useless, given that Pence and Harris will be in an indoor space for hours, in which ventilation and air filtering are the biggest factors in preventing potential aerosol-based transmission. Instead of establishing an actual protection field, the barriers are merely "splatter shields," as one epidemiologist poetically put it. "Those plexiglass barriers are really only going to be effective if the vice-president or Kamala Harris are spitting at each other," she told the New York Times.
Another epidemiologist "laughed outright" when the Times presented her with a photo of the debate setup. "It's absurd," she said. "These are even smaller and less adequate than I imagined." So there we have it: Trump is staging maskless photo ops on the White House balcony, and the vice-presidential candidates are both huddling behind one open wall of a plexiglass gingerbread house.