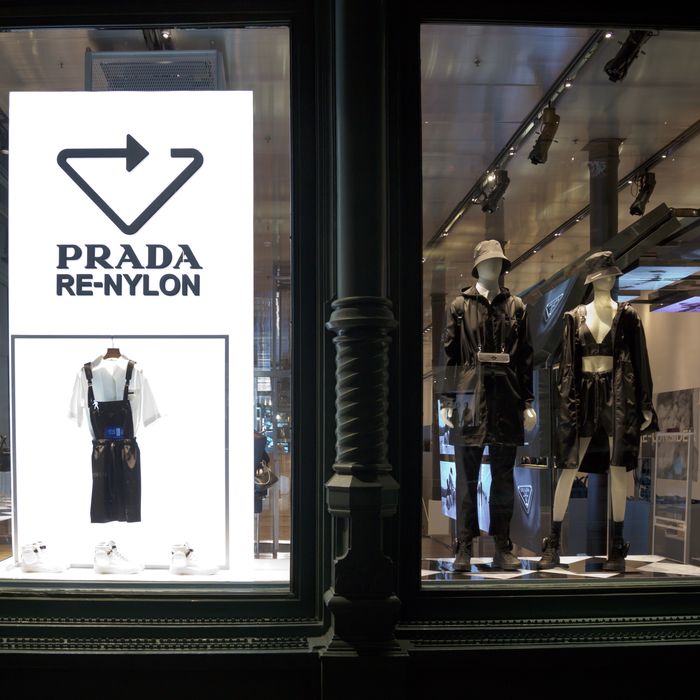 Prada's Broadway store in New York City.
Photo: Amy Elizabeth/Courtesy of Prada
Every successful fashion brand has a signature, and for Prada, it's the nylon backpack. First designed by Miuccia Prada in 1984, its combination of functionality and sleekness made it a practical status object and an eternal best seller.
In 2019, the style was given yet another life with Prada "Re-Nylon," a capsule bag collection made of regenerated fabric, which is created through the recycling and purification of ocean plastic, fishing nets, landfills, and textile-fiber waste. Today, the brand has expanded this line to include ready-to-wear for the first time, as well as footwear and accessories like headbands, belts, and bucket hats. Plus, of course, more backpacks. Each piece is in conversation with the other — dresses are designed with backpacklike buckle straps, and backpacks are designed with dresslike pockets. All feature a clever adaptation of the Prada triangle logo, made to look like a recycling symbol.
By the end of 2021, Prada hopes to convert all its virgin nylon products to regenerated nylon. Below, a glimpse of the new collection, which you can see in full at the brand's Soho store.