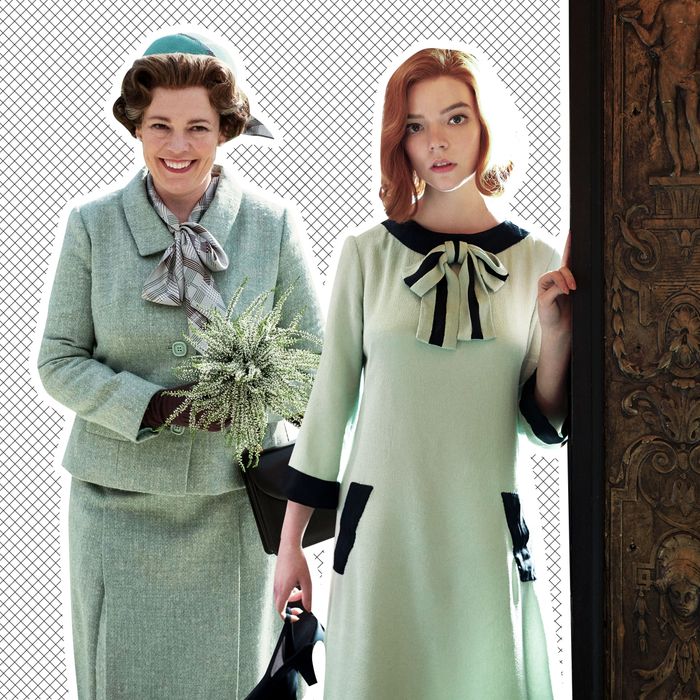 Still from
The Crown
(left). Still from
The Queen's Gambit
(right).
Photo-Illustration: by The Cut; Photos: Netflix
It's not easy getting to a museum these days. If an exhibit is even open to the public, you likely have to make an appointment to see it or wait in a long line. And then there's the issue of getting there, which means leaving the safety of your own home. But to view "The Queen and the Crown," a new virtual costume exhibit presented by the Brooklyn Museum and Netflix, you don't even have to get off the couch.
The exhibit is timed to the release of Netflix's new limited series The Queen's Gambit and season four of The Crown, which premieres November 15. A select number of costumes from each show can be seen in 360 degrees and extreme detail on the exhibit's website. Visitors arrive to the page like they would the actual museum, with its famous third-floor Beaux-Arts Court rendered in 3-D. You can even hear the realistic soundtrack of footsteps echoing in the background.
Using a mouse, you can then move around the space, browsing everything from sexy chess savant Elizabeth Harmon's game-winning frocks to Princess Diana's wedding dress, which was re-created by the Nottingham company that made the original and took three people four weeks and 600 hours to create. These pieces are also displayed alongside thematically related objects from the Brooklyn Museum's collection.
"It's so fantastic to give the costumes this second life and for people to see the work up close," said Crown costume designer Amy Roberts. Many of the pieces she and her team have made for the series, like Princess Diana's wedding dress, are couture level but only live a brief life onscreen. "With film and TV, all your work is up for a second and then it's gone, never to be seen again," she lamented. You may not even get a glimpse of the exquisite buttons on the back of Princess Margaret's two-piece, for example, or the leather belt on Princess Diana's suit, depending on where the director decides to focus.
But as Brooklyn Museum curator Matthew Yokobosky said, with a virtual exhibit, these costumes can "live on forever" (or at least until December 13). "I also love that it can be seen all around the world," he continued. "None of us can travel now, but we can travel on our computers."
With so many people bingeing Netflix at home these days, it's not hard to imagine someone watching The Queen's Gambit and The Crown back-to-back. And their similarities actually go deeper than appearances; the game of chess and the calculations of actual royal life aren't so different when you think about it. Together, both shows — and the accompanying exhibit —demonstrate how women (named Elizabeth) use fashion to illustrate their power.
View "The Queen and the Crown: A Virtual Costume Exhibition" here.