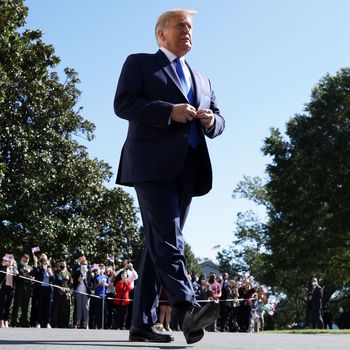 Donald Trump
Photo: Alex Wong/Getty Images
A new study from the World Health Organization has found that remdesivir — one of the anti-viral drugs that has been touted as a potential treatment for COVID-19 since the beginning of the pandemic and that was administered to President Trump after he tested positive for the virus — has "little or no effect" on COVID patients' chances of survival.
Remdesivir, originally an Ebola drug, was one of four potential COVID-19 drug treatments the WHO evaluated, according to the BBC. The others were the malaria drug hydroxychloroquine, the autoimmune drug interferon, and the HIV drug combination of lopinavir and ritonavir. The drugs were tested on 11,266 adult patients in more than 30 different countries, and the WHO found that none of them had a significant effect on patients' mortality rates or how long they stayed in hospitals.
Gilead, the company that manufactures remdesivir, has disputed the WHO's findings and said in a statement that the results were "inconsistent" and that Gilead was "concerned" that the study had not yet been peer-reviewed.
The WHO's study contradicts an earlier trial, conducted by Gilead, which found that remdesivir could cut COVID recovery time by five days. Roughly 1,000 patients took part in the trial, significantly less than the amount studied by the WHO.
Gilead was told about the results of the study on September 23 and given a draft of the findings to review on September 28. As the Guardian notes, on October 8, days before the WHO released its findings, Gilead signed a contract for 500,000 doses of the drug with the European Commission, which did not know about the results of the WHO study. The deal was for about €850 million.